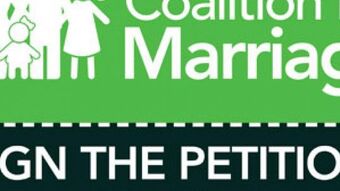 CARE has joined with a number of faith-based and secular groups to participate in and launch the Coalition for Marriage.
The Coalition for Marriage (C4M) is an umbrella body representing faith groups, MPs, peers, academics, lawyers, pro-family organisations and grassroots supporters in the UK that support traditional marriage and oppose any plans to redefine it.
As the Coalition for Marriage was launched this morning (20 February), a new survey from ComRes shows that 51 per cent of people agree that "no one has the right to redefine marriage for the rest of us", given that same-sex couples can secure all the legal rights of marriage by entering into civil partnerships.
The survey of 1002 people conducted in England between January 6 and 8, 2012 also found that 86 per cent of people support the proposition that it is "possible to be tolerant of the rights of others and protective of traditional marriage at the same time".
The ComRes poll results align with those in the 2008 British Social Attitudes Survey, which found 63 per cent of the public oppose same-sex marriage when respondents are told about the existence of civil partnerships.
Prominent supporters of the Coalition for Marriage campaign include Lord Carey of Clifton, the former Archbishop of Canterbury, and Lord Brennan QC who spoke at the launch this morning.
Lord Carey said that institution of marriage would be weakened by making it available to same-sex couples. "The British public hold marriage in great affection. Most of our young people aspire to be married.
"I believe the general public will oppose the present attempt fundamentally to alter marriage. This is not because we oppose protections and benefits to gay couples, but because we simply don't accept the mantra of the equalities industry that being equal means being the same.
"Civil partnerships were brought in to give same-sex couples the rights that they argued were badly needed. These rights were virtually identical to those of married couples. Yet at the time I remember listening to government reassurances in the House of Lords that civil partnerships would have no effect on marriage. Marriage, we were told, would remain distinct because it is a relationship between a man and a woman.
"Now the Government – egged on by pressure groups and image advisors, but not the general public – is pressing ahead with plans to rewrite the legal definition of marriage.
"This is in spite of the fact, that for thousands of years it has meant one man committing himself to one woman in the hope of raising children in a stable and loving environment.
"Under the Government's plans marriage is set to become all about the human rights of adults. The traditional meaning of marriage, which David Cameron rejects, is about the mutual good of both adults and their children. The best interests of children will, I predict, get lost in a cacophony of noise about "equality" and "human rights".
Legal expert Lord Brennan QC said before the launch: "For centuries our law has reflected the universal reality that marriage is the exclusive, life-long union of one man and one woman. It is unnecessary to be contemplating re-defining this ancient and revered institution. Surely the Government has much more pressing issues on which to focus its energies?
"Same-sex couples have all the legal rights they need in the form of civil partnerships. But if marriage is re-defined, many others will begin to lose their rights, especially the churches, who, whatever reassurances the Government may offer, will be challenged again and again in the courts for refusing to solemnise same-sex marriages."
Colin Hart, Campaign Director of C4M, branded the proposed changes unnecessary, costly, undemocratic and lacking public support. He said that they were being driven by the forces of political correctness and a handful of single-issue pressure groups.
"When the public are given the facts, when they are told that the rights of marriage are already available through civil partnerships, a majority of the public back traditional marriage."
C4M is posing a series of questions that it says the Government has so far failed to answer, including the cost, the impact on schools and churches and the legal ramifications.
"The word "marriage" appears 3,258 times in UK legislation. It is woven into the fabric of our national laws. That can't be just unpicked in a single stroke," said Mr Hart.
"If the law is changed there is great concern that people will be punished in their careers, charities closed down, or couples preventing from fostering all because of their views on traditional marriage."
C4M is also arguing that the Government is acting undemocratically since this profound change in the nature of marriage was omitted from the manifestos of all three main political parties.
"The Home Secretary has made clear that the Government consultation will be about "how" not "whether" to redefine marriage and the Prime Minister says it is not a question of "If" but "when. When will the 24 million married people in this country get to have their say? This is profoundly anti-democratic. The Government is running away from this public debate. They are bulldozing ahead without any thought for the consequences," continued Mr Hart.
"Redefining marriage affects all of us, because it weakens the status of traditional marriage, which provides the most stable environment for raising children. Just one in eleven married couples split by the time of their child's fifth birthday compared to one in three of cohabiting couples. 97 per cent of couples who stick together until their children reach adulthood are married."
CARE is glad to be supporting this vital and timely campaign and encourage you to visit the Coalition for Marriage website – www.c4m.org.uk – to add your name to the petition which can be found there, download a petition sheet for others to sign and find out more about the campaign. You can also follow the Coalition for Marriage on twitter @c4mtweets.
You can keep up-to-date with CARE's involvement in the Coalition for Marriage campaign at www.care.org.uk/marriage.
Notes:
1. The Coalition for Marriage (C4M) is a UK-based alliance bringing together both secular and faith-based groups and individuals who oppose attempts to redefine marriage to include both same sex couples and polygamy.
2. The Coalition was launched on the 20th February in London at an event attended by the former Archbishop of Canterbury Lord Carey.
3. C4M has launched a national petition for marriage. Signatories include: Lord Mackay of Clashfern, Fiona Bruce MP, David Burrowes MP, Edward Leigh MP, Joe Benton MP, Jim Dobbin MP, Sharon James, Lord Stoddart of Swindon, Rt Revd Peter Foster, Bishop of Chester, Rt Revd Anthony Priddis, Bishop of Hereford, Rt Revd Michael Langrish, Bishop of Exeter, Rt Revd James Newcome, Bishop of Carlisle, Dr Philip Giddings, James Bogle, Chairman of the Catholic Union, Revd Hugh Palmer, Prof Sir Denis Pereira Gray, Revd William Taylor and Revd Martin Turner.
C4M's petition is open to anyone resident in the UK over the age of 16 and can be signed by visiting c4m.org.uk
4. The poll was conducted by ComRes, which interviewed 1002 adults in England by telephone between 6th and 8th January 2012. Data were weighted to be demographically representative of all adults in England. ComRes is a member of the British Polling Council and abides by its rules.