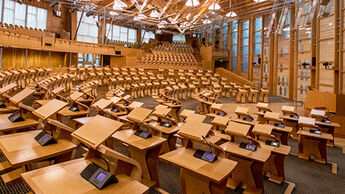 Please note: the Hate Crime Bill passed 82-32
On Wednesday evening began the final debate of the controversial Hate Crime and Public Order (Scotland) Bill. It was as epic in length as it was in scope. So grand an encounter was it that continued late into the evening and meant it couldn't be concluded! MSPs eventually voted 82-32 in favour of the Bill on Thursday 11 March at Decision Time.
Because this was a Scottish Government bill it was always likely, as long as the SNP could convince just one other MSP to vote for it, that it would pass. But make no mistake, this Stage 3 debate was no freight train of unopposed head-nodding. The nature of hate crime, as it butts up against the freedom that all in Scotland enjoy, was fiercely debated.
Two members of the Justice Committee committed themselves early on to protect human liberty. Liam Kerr MSP continued to fight, as he had done in the Justice Committee at Stage 2, to amend the Bill to include a dwelling defence, a point we've made all along. He related, "this legislation describes itself as concerned with public disorder. Because prosecution under these stirring up laws over private conversations in the home must surely constitute a violation of privacy and the human right of a family and private life." And so Mr Kerr pursued his case only to be voted down.

Next up was Justice Committee convenor Adam Tomkins MSP. He made clear that he knew that the Bill already had the support of Parliament, so he would instead not attempt to block it, but instead amend it. An example of this was shown in his passionate defence of human freedom shown in human opinion. Mr Tomkins was one of the most impressive speakers of the night and his amendment 1, which CARE for Scotland supported, was accepted by the Scottish Government – a bit of a boost! As a result, the Hate Crime Bill will include a reference in the Bill to Article 10 of the European Convention on Human Rights which 'allows for the expression of information or ideas that offend, shock or disturb'.
Then came those on the Left – this was no Right wing bashing of those on the Left by any means!
In a very direct response, Neil Findlay MSP asked the Government to "withdraw this Bill, and come back, which ever party wins the election, come back with properly thought out legislation". He challenged that this Bill was fit for purpose at all.

Following this, Elaine Smith MSP sought to probe as to the nature of the 'reasonable person test' that was proposed to prevent spurious allegations of insult sticking as a form of hate crime. She gave a concrete example: "I think it boils down to this though – what is a reasonable person? … The principal of Edinburgh University – would he be considered a reasonable person? But he's reported stickers that said 'Adult Human Female' to the Police. So we have to understand what a reasonable person is." The sharp end of this example lingered in the chamber because everyone understood the potency of it.
This same impulse was in keeping with Joan McAlpine MSP, who bravely went against the SNP whip, to make the point that although the freedom of expression amendments were welcome, they definitely didn't go far enough. The Bill might protect you in court, Ms McAlpine conceded, but a person would still have to live with the trauma of being arrested, accused and/or investigated in the first place before the court stepped in. "There needs to be clear lines in law between what is criminal and what is not," she said.
Former Scottish Labour Leader Johann Lamont was also a clear voice of reason on the night. She, like others during the debate, covered a vast array of issues, including that sex should be understood as binary, as well as speaking up for the disabled and vulnerable women. Challenging the crude misconception that freedom of speech is only the claim of the socially conservative, she reminded the Parliament that the Labour Party was originally founded by those espousing unpopular and controversial views. Liberty, then, she claimed, is something akin to the Left as well as for those on the Right.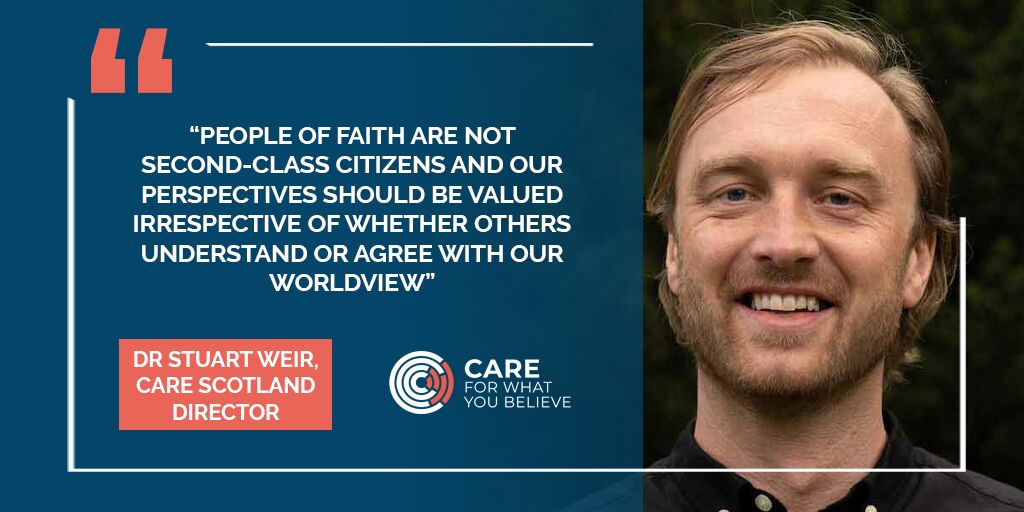 Cham­pi­ons of Free Speech
The Hate Crime Bill looked likely to sail through from the off. This was a point of deep disappointment to me. However, after the last two days I am a whole lot less disappointed because of the remarkable contributions mentioned above. Champions of free speech stood up and were counted. It is indeed very unfortunate that there weren't enough followers to break ranks with the SNP to support them, but I find myself more encouraged than I expected to be. There are a good few who bravely contended for liberty and asked all, literally all, the awkward questions. Let us pray that more like these enter the fray as we vote in a 'fresh' batch of 129 on the 6th May.
Stuart Weir is CARE for Scotland's National Director