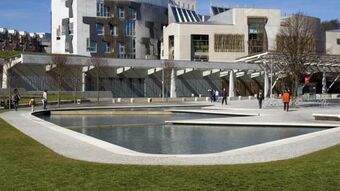 At the end of last week, the Scottish Government published its Hate Crime and Public Order (Scotland) Bill. It aims to modernise, consolidate and extend existing hate crime law.
Prior to publication, the Scottish Government ran a consultation on the issue and, strikingly, the majority of responders were not supportive of hate crime laws in the first place. Most argued that the effect of such laws is that they stifle free speech and create a hierarchy of victims, where some are deemed more worthy of protection than others.

Prom­in­ent MSP warns new laws could endanger free speech
Now, a prominent Scottish Tory MSP, Murdo Fraser has warned that a particular provision in the legislation could cause a lot of problems. The legislation as drafted contains measures that lead to new offences of 'stirring up hatred'.

At the moment, these apply only to racial hatred, but the plan is to extend this to encompass all groups defined by reference to age, disability, religion, sexual orientation, transgender identity and variations of sex characteristics.
The crux of the issue is that it won't be necessary to prove an 'intent' on the part of the accused party to stir up hatred. Rather, they would only need to prove that hatred in relation to a particular, protected characteristic, is 'likely to be stirred up thereby'.

Could ortho­dox Chris­ti­an views be criminalised?
It's not difficult to see the issue here. For evangelical Christians, the risks of where these new laws could lead are incredibly concerning.
This is an incredibly dangerous moment in the battle for free speech. For example, under this criteria, could a Scottish pastor who held to the traditional, orthodox Christian view of marriage and sex be found guilty?
Only recently, Franklin Graham was barred from various venues across Scotland after protests over his views on sexuality.
Thankfully, the Bill does contain protections for free speech. For example, it permits discussions or criticisms of religions and of sexual conduct or practices.

Hate crime laws must be ​
'

fair and balanced'

Yet as Murdo Fraser says, it remains to be seen whether these protections go far enough. He concludes his article by saying this:

CARE's view
At CARE we believe strongly in freedom of expression. Balancing the need to promote a civilised society with the absolute freedom to express our views, no matter how unpopular is always immensely difficult. But to compel speech goes right against the whole principle of freedom of expression. MSPs will want to consider these new laws very carefully indeed and if there is even the slightest risk to free speech, then the legislation should be redrafted or rejected entirely.