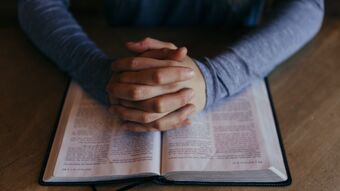 We are faced with real uncertainty at the present time. The coronavirus is a real threat to our normal way of life. Many are understandably anxious and afraid and at times like this, prayer will become even more important.
For the Christian, prayer is talking to God. We are encouraged in the bible to bring everything before the Lord (Phil 4:6-7). One theologian said: 'the way to be anxious for nothing is to pray about everything'. We are also taught that prayer is powerful and effective (James 5:17).
How then, shall we pray? Written prayers can be a real help at times like this. At CARE, our Prayer Coordinator, Celia Bowring has written six prayers to begin with to guide us. We will add more in the coming days.
A Prayer giving thanks for the new NHS Nightingale Hospitals
Heavenly Father, thank You for the incredible effort and expertise of those involved in creating new Nightingale hospitals in the fight against Covid-19. Please help everyone working on these in London, Birmingham, Manchester, Cardiff and Glasgow very soon to reach the point where patients can be admitted . Amen.
A Prayer for vital supplies for the NHS
Lord, we ask that Personal Protective Equipment and other vital equipment and supplies will arrive to where they are needed efficiently and speedily. We also pray for everyone who is working to produce, distribute and administer effective tests to achieve this as quickly as possible. Amen.
A General Prayer about the coronavirus situation
Sovereign God, in Your mercy please comfort and heal vulnerable patients who are ill with Covid-19. Protect all those looking after them, especially doctors, nurses and carers, and prevent this virus from seriously disrupting the everyday lives of our communities, cities and countries. Grant great wisdom to those in authority to make effective plans and help us all to be vigilant but not give in to panic. Amen.
A Prayer especially for the most vulnerable
Compassionate God, we pray for vulnerable people to be reassured, and supported safely and effectively to protect them from coronavirus. Please strengthen anyone who is seriously ill with it because of underlying conditions. Bring healing and comfort to them and their families. Amen.
A Prayer for peace in uncertain times
Lord, You are the Prince of Peace and the King of Love who casts out fear. Please help us not to be anxious about Covid-19 but to seek Your wisdom and stay vigilant about taking precautions, planning ahead and showing compassion to those who may be vulnerable. Amen.
A Prayer for Church Leaders
Heavenly Father, please grant Your faith, hope and love to church leaders as they consider the best ways to protect people from being exposed to Coronavirus. Show them any practical measures needed and inspire them by Your Spirit as they minister to their congregations. Amen.
A Prayer for those in authority
Gracious God, please grant strategic wisdom and insight to those in government, local health authorities, and providers across the NHS as they decide how to use the funding that is available and distribute staff and other resources to meet the needs brought about by Coronavirus. Amen.
A Prayer for Italy
Lord, we intercede for Italy - so badly hit by the virus. Please comfort and strengthen those affected, medical and nursing staff, and agencies taking decisions to protect and to provide for everyone's needs. In Jesus' name. Amen.
A Prayer for those facing economic pressures and job losses
Merciful Lord, in this time of economic instability, please send your great comfort to those who are worried about their finances and carry many burdens and responsibilities. Please help us to come alongside them, and give great wisdom to the Government to know how best to provide for everyone. Amen.
A Prayer for NHS and health care workers
All mighty God, at this time we lift to you those who are working on the front line in our medical services. Our wonderful NHS staff, who are working so hard to ensure people who are unwell are well looked after. We ask that you would give them your peace and wisdom at this challenging time. May they know your presence and have a new zeal for caring well for their patients. We also ask that you would help the government whilst they are thinking of new ways to support our NHS workers. Amen.

A Prayer for parents and pupils dealing with school closures
Father God, as schools close across the country today, we pray for mums and dads and their children. We pray your peace would reign in homes, particularly where families are self-isolating. Please give parents great patience, and help them find creative ways of keeping everyone occupied. We pray, in your merciful and mighty name, that You would strengthen families and see them through this difficult time. Amen.
A Prayer for those self-isolating
Sovereign Lord, we pray for those who are self-isolating because they are more at risk. Please give them comfort and hope. May they use their time creatively and productively and grant them good rest and patience. Please may neighbours and families step up to help support them and provide for their every need. In Jesus name. Amen.
A Prayer for the NHS
Father, thank You for the courage and dedication of NHS staff, including those just completing their training and previously employed people returning to help. We intercede for them to stay safe and strong, and especially that vital personal protective equipment will be available for everyone. Amen.
A Prayer for prisons under pressure
Lord, please grant wisdom to those responsible for our already overcrowded prisons, where a tenth of staff are currently off work. Pray that prisoners on remand and others are released early will be helped to find somewhere safe to stay and not be tempted to reoffend. Amen.
A Prayer for self employed people
Lord our Provider, please give wisdom to Chancellor Rishi Sunak as he considers how best to support self-employed people who are unable to work. We pray for sufficient, fair and timely provision to be delivered to help meet urgent everyday expenses and longer-term costs. Amen.