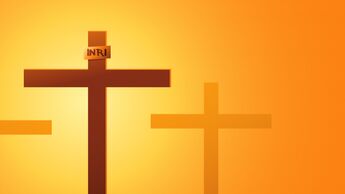 The situation in our society today has meant that this Lenten period has almost been eclipsed by people adjusting to a new way of being. As such our focus is on protecting ourselves from one another, from contracting the virus. Some are anxious, some are vulnerable, some are both/and, some are nonchalant, whilst others are brazen in the face of the invisible spectre.
Some people are confused, others are terrified, while still more are straining to readjust but haven't yet found a way of living within the suggested parameters. Not knowing how to work from home, or having to work long hours because you find yourself as a 'key worker' on society's frontline, has thrown many into a spin. Many of us are not able to see one another and we're already stir crazy. Others are forced by being front line workers to have uncomfortably frequent contact with the public.
Some have gone to the Highlands or to the North Coast beaches thinking that we're on a monstrously long holiday. Others have hunkered down in their homes to stay away from every possible human being. The media stir the pot of catastrophe ad infinitum. Society is amidst a fog; fear or flippancy prevail.
But it has always been thus.
As we slowly trudge towards the moment to rehearse the Passion story we have to enter into its confusion and fraught emotions. A Galilean messiah had been building some momentum over the years. Healings, teaching, altercations, mass gatherings, meals. But who was he? The messiah? Elijah? Beelzebub? Some random? Confusion as to interpret the times ran rampant.
Then one day one of his followers rats him out to the authorities. He's charged with being a revolutionary upriser. On the outskirts of a city, away from the masses, he's executed in a shameful manner. As a consequence his followers scatter. "Were we mad to have followed this geezer?", they tormented themselves, pretending it had nothing to do with them.
Where was God the dissident messiah cries out during his excruciating pain. The weather changed that day – the clouds turned so eerily black. It seemed like God wasn't there.
Yet…
When it seemed like God was least present, he was there in his most undistilled form. When there was the most disorientation, it turns out that the most clarity and meaning had actually been offered. God allows himself to be shoved out of the world onto a cross. The weak Christ appears to be entirely powerless. But the reality of the limp and lifeless Messiah is the only way in which he is with us.
Almost everyone missed it.
In the daze of self-isolation, in the bemusement of those in denial of COVID-19, we must join the handful of women who knew something was happening. In the terror, in the discombobulation, something was unfolding. The suffering God presented himself. He was there that day if you had eyes to see.
This Passiontide, who do you see?