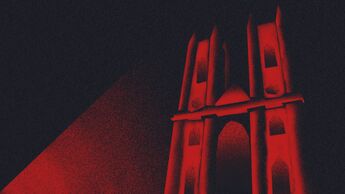 If you walk the streets of London today, you may notice that notable landmarks are lit up in the colour red.
This is to signify Red Wednesday, a day that commemorates the suffering of people worldwide who are persecuted for their faith. The day particularly remembers the persecution of Christians, which has now reached levels in the Middle East that a report by the Bishop of Truro has described as 'near genocide'.
Red Wednesday is organised by the charity Aid to the Church in Need, who describe the purpose of the day as "the time for people of all faiths, and no faith, to come together in solidarity for Christians and others who are oppressed, forced from their homes, rejected from education and jobs and very often killed just because of their religion."
It's so important that we pray for those who are persecuted for their faith around the world, and today we stand in solidarity with those who are unable to freely practice their religion, and to exercise freedom of speech and conscience in the public square.
Discrimination closer to home
Red Wednesday also gives us an opportunity to express gratitude to God for the freedoms we enjoy here in the UK, where we are still able to congregate and worship openly in our churches, as well as manifest our faith publicly.
Of course, it needs to be said that Christians across the UK – and throughout Europe – are beginning to experience a squeeze on those freedoms, and a recent report by the Observatory on Intolerance and Discrimination Against Christians In Europe catalogued the rise in discrimination Christians have started to face in Western nations over the last few years.
As we see street preachers being arrested, pro-life student societies being banned, Christians being sacked for their beliefs, and a ban on prayer in public spaces there are many who are starting to feel that Christians are being increasingly marginalised in our society.
Either we give up our beliefs, forsake the truth and try to make Christianity 'fit' with the world, or we sacrifice our comfort, security and reputations for the sake of Christ. None of this is surprising – Jesus told us we would experience this if we followed him.
Pray for religious freedom for all
Whilst recent incidents in the UK are not equivalent to what may be termed 'persecution', as faced by our brothers and sisters across the world, it is important to acknowledge that it is becoming increasingly difficult for Christians in the UK to manifest their faith freely in the public square.
This is why CARE continues to fight for everyone, regardless of faith, to enjoy religious liberty in our nation, and we continue to advocate for the right to freedom of speech for all – an essential foundation of any free and democratic society.
This Red Wednesday, we continue to pray that our freedoms will be protected by those in authority, and that parliamentarians will have greater respect for people of faith. We pray there will be more understanding that religion is not and cannot ever be merely a private matter – that part of having a faith is the freedom to manifest it.
Find out more
Find out more about CARE's work on religious liberty here
Read about the latest developments on religious liberty on engaGE19, CARE's election website
For those interested in attending, there will be a procession and event in Westminster Cathedral this evening starting at 6pm, with guest speakers.