19,000 sign open letter urging PM to withdraw NI Bill over abortion amendment
Abortion
15 July 2019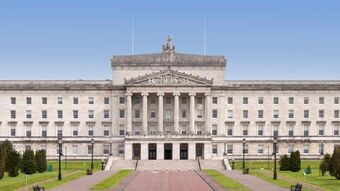 More than 10,000 people have signed an open letter calling on the Prime Minister to prevent a new abortion law coming into force in Northern Ireland.
The letter itself is from Baroness Nuala O'Loan, who gave this powerful speech in the House of Lords last week about what had happened, and Lord Eames. It has been signed by other Peers, MLA's and community leaders from across NI.
It comes after MPs voted 332-99 for an abortion amendment to the Northern Ireland (Executive Formation) Bill which will impose extreme abortion laws on NI, despite the fact it is a devolved issue.
Background: Northern Ireland and abortion law
Northern Ireland is different from the rest of the United Kingdom in terms of abortion law because it never adopted the 1967 Abortion Act. Robust research from Both Lives Matter demonstrated that there are 100,000 people alive today in NI because the 1967 Act never applied. Under NI law, abortion is available only when there is clear evidence that the mother's life is at risk.
In 2016, MLA's had the chance to change NI's abortion law, but by a clear majority rejected that opportunity. The Assembly collapsed on 9 January 2017 which has created an environment in which some MPs have tried to argue it is up to Westminster to act, because the Assembly is not functioning. The British Government had stated repeatedly that abortion law in NI is a matter for the NI Assembly.
Polling in October last year also revealed that the majority of people in Northern Ireland did not think Westminster should be deciding on NI's abortion law. In total 64% of people, 66% of women and 70% of 18-30 year olds in Northern Ireland did not want Westminster to impose change.
MPs attempt to by-pass devolution
In July, MPs debated the Northern Ireland (Executive Formation) Bill. It is a narrow Bill, with a very specific purpose to extend the period for negotiations to restore the Northern Ireland Assembly. The Bill is subject to a fast-track procedure, the constitutional propriety of which has been questioned, which has reduced the time for scrutiny of the Bill. It would be reasonable to think such a narrow piece of legislation could not be amended to change NI abortion law. But some MPs had other ideas.
Following the introduction of the Bill in the Commons, pro-abortion MPs hijacked the legislation and tabled amendments which had the intent to introduce widespread access to abortion in NI.
On Tuesday 9 July, MPs debated the Bill in the House of Commons. Various amendments were selected for debate and put to a vote. They included an amendment on same-sex marriage and one on abortion, despite the fact both amendments were demonstratively outside the scope of the Bill.
MPs voted in support of the abortion amendment by 332-99. It places a duty on the British Government to change the law on abortion in Northern Ireland if devolution is not restored by 21 October. The sponsor of the abortion amendment, Stella Creasy MP made it clear that she intended the scope or extent of the abortion amendment to be limited.
On Friday, the Government said it would be drafting its own secondary legislation to introduce abortion on demand in NI. It appears therefore that despite previous assurances, the British Government is very supportive of the decision to impose abortion law on NI despite the fact it is devolved and has historically been a free-vote, conscience issue.
Peers attempt to block attempt to change NI abortion law
Faced with this threat to the value of life in Northern Ireland, some Peers have tabled amendments to the legislation to try and stop the change from happening. They include a motion by Lord Morrow which calls for the abortion amendment to be removed, one from Baroness O'Loan requiring that the people of NI are consulted and a majority of MLA's need to vote for the change before it can proceed.
Northern Ireland Peer Baroness O'Loan said: "I am shocked to see that the Government has dropped their long-standing policy of neutrality on abortion and respect for devolution. In 2016 the Northern Assembly voted by a clear majority against changing the abortion law.
"One-hundred percent of Northern Ireland MPs who have taken their seats in Westminster voted against the amendment introduced by Stella Creasy. None of the MPs who voted for it represent constituencies in Northern Ireland. These and other matters form part of the current negotiations being conducted by the Government in an attempt to restore the Northern Irish Assembly - something the people of Northern Ireland are crying out for. To do this at this time is to imperil the future of those talks.
"I have been inundated with messages objecting to the fact that the government is proposing to ignore the devolution settlement and amend the defective bill and support it rather than acting to respect the expressed will of the people of Northern Ireland.
"Lord Eames and I have joined with a large cross-community group of leaders in Northern Ireland to make it clear that the people of Northern Ireland will not stand for this. We are calling on Theresa May to either scrap the Northern Ireland Bill in its present form or ensure that the clause is only taken forward, if the people of Northern Ireland are consulted and a majority of MLAs support the introduction of an extreme abortion law to Northern Ireland."
Stand with us
It's not too late to contact Peers and urge them to vote in support of amendments tabled to the Bill which would block this dangerous abortion law being imposed on Northern Ireland.
Click here to contact a Peer about supporting amendments that will block the proposed abortion law change