Labour's betting reforms a step forward in tackling UK's problem gambling epidemic
Gambling
20 September 2018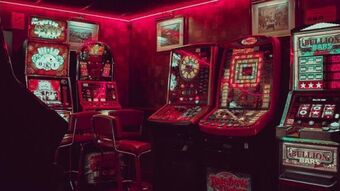 Public policy charity CARE welcomes Labour plans to outlaw in-play betting ads to help combat the UK's problem gambling epidemic.
Labour's new proposals would ban TV and online gambling promotions during live sporting events.
Under Labour's proposals, bookmakers would still be able to offer odds on sporting events during play but would not be allowed to advertise them for a specified period before and after games or during breaks.
We are pleased to see recommendations CARE made during the review process highlighted in the report, such as limiting free to play online gambling style games to over 18s to prevent the normalisation of gambling behaviour in young people.
With an estimated 430,000 problem gamblers, as well as 370,000 11-16-year old's in the UK who gamble on a weekly basis with 25,000 of them classed as problem gamblers, significant overhaul of UK gambling legislation is needed to protect both adults and the next generation.
Deputy Leader Tom Watson unveiled the proposals alongside a repeated call for Premier League football clubs to cease sponsorship deals with gambling firms, pledging legislation if they do not act voluntarily.
Just under half - 9 out of 20 Premier League teams and 17 out of 24 (70 per cent) of teams in the Championship are sponsored by gambling companies. In total, across the top two leagues in the UK 60 per cent of teams have gambling companies as their sponsors.
Between Friday 10 August and the end of November 2018 almost two thirds of televised Premier League matches will feature teams with gambling advertising on their shirts. 37 games out of 59.
As well as normalising gambling for adults. advertising on football shirts is a way that gambling companies can sidestep the ban on advertising to children.
These report follows calls from the Lord Bishop of St Albans who told the Government last week that gambling advertising is out of control. The Head of the NHS, Simon Stevens described gambling as one of the "new threats" facing the NHS.
CARE's Chief Executive Nola Leach said:
"CARE welcomes Labour proposals to address gambling in the UK.
"We have long been concerned at how advertising has normalised gambling, particularly for children, making it seem harmless and without consequence, which we know is not the case.
"Current gambling legislation is not working for anyone, including children and young people across Britain. Instead it has a led to an epidemic of children problem gamblers.
"The landscape has significantly changed over the last few years in relation to gambling, with technological developments and increased betting options. We can't be simply rely on outdated law and voluntary codes to tackle the UK's gambling problems.
"The Government needs to accept that inaction is going to make Britain's problem gambling public health crisis worse and unless change is forthcoming, it's going to be children who are losing out."
Notes to editors:
For more information and interview requests please contact Rachael Adams: Rachael.adams@care.org.uk // 07581153693
The report in full: LABOUR PARTY REVIEW OF NHS TREATMENT OF GAMBLING ADDICTION. CARE's recommendations are referenced in the report on pages 21 & 31
Bishop tells the Government: Gambling Advertising is out of control – CARE
NHS Chief joins calls for Premier League clubs to tackle gambling addiction - CARE
CARE talks about gambling advertising on BBC Radio – CARE
Gambling companies side-stepping ad ban by sponsoring football teams – CARE
New report highlights gambling is being normalised for young people - CARE
New Research Lays Bare Public's Frustration with the Gambling Industry - CARE
The tables below show 9 out of 24 (45%) of Premier League teams and 17 out of 24 (71%) of Championship League teams are sponsored by gambling companies. Combined this is 60 per cent of teams across England's top two leagues.
| Premier League Team | Sponsorship |
| --- | --- |
| Arsenal | Emirates |
| Bournemouth | Mansion 88 |
| Brighton and Hove Albion | American Express |
| Burnley | LaBa360 |
| Cardiff City | Visit Malaysia |
| Chelsea | Yokohama |
| Crystal Palace | ManBetX |
| Everton | SportPesa |
| Fulham | Dafabet |
| Huddersfield Town | OPE Sports |
| Leicester City | King Power |
| Liverpool | Chartered Standard |
| Manchester City | Etihad Airways |
| Manchester United | Chevrolet |
| Newcastle United | Fun88 |
| Southampton | Virgin Media |
| Tottenham Hotspur | AIA |
| Watford | FxPro |
| West Ham United | Betway |
| Wolverhampton Wonderers | W88 |
| Championship League Teams | Sponsorship |
| --- | --- |
| Aston Villa | 32Red |
| Birmingham | 888 Sport |
| Blackburn | 10Bet |
| Bolton | BetFred |
| Brentford | LeoVegas |
| Bristol City | Dunder |
| Derby | 32Red |
| Hull | SportPesa |
| Ipswich | Magical Vegas |
| Leeds | 32Red |
| Middlesbrough | 32Red |
| Millwall | TW Drainage |
| Norwich | LeoVegas |
| Nottingham Forest | Betbright |
| Preston | 32Red |
| QPR | Royal Panda |
| Reading | Carabao energy drink |
| Rotherham | Hodge Clemco |
| Sheffield United | Ramsden Currency |
| Sheffield Wednesday | Chansiri |
| Stoke | Bet 365 |
| Swansea | BetUK.com |
| West Brom | Ideal Boilers |
| Wigan | DW Fitness First |