Gambling companies side-stepping ad ban by sponsoring football teams
Gambling
10 August 2018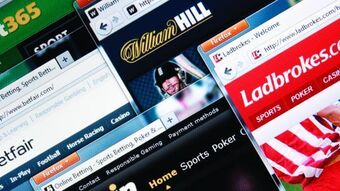 Betting companies are side-stepping the ban on advertising to children by sponsoring football clubs and putting their logos on team shirts, public policy charity CARE warned today.
With the new season kicking off tonight (Friday, August 10), the scale of gambling advertising across England's top two leagues has been revealed.
Just under half – 9 out of 20 Premier League teams and 17 out of 24 (70 per cent) of teams in the Championship are sponsored by gambling companies.
In total, across the top two leagues in the UK 60 per cent of teams will have gambling companies as their sponsors.
Between Friday 10 August and the end of November almost two thirds of televised Premier League matches will feature teams with gambling advertising on their shirts. 37 games out of 59.
While gambling companies are not allowed to target children with their advertisements, their logos are emblazoned across children's footballing hero's chests without proper context.
The problem is made more acute because under current industry regulations, sport betting ads can be shown around broadcast sporting events before the 9pm watershed.
According to Gambling Commission figures there are 430,000 adult problem gamblers in the UK with hundreds of thousands more at risk of the problem.
There are also estimated to be 370,000 11-16 year olds who gamble on a weekly basis with 25,000 of them classed as problem gamblers.
Today CARE is calling for the 9pm watershed to be extended to cover sport betting ads and the charity is also calling for a wider public debate on football's relationship with the gambling industry.
CARE's Chief Executive Nola Leach said:
"Sponsoring football shirts is a way that bookmakers can side-step the ban on advertising to children.
"Betting ads on sports shirts is highly irresponsible because it normalises gambling to a very young audience.
"Shown completely without context, these shirts are on the backs of children's favourite players and this creates the illusion that gambling is harmless, fun and without consequences. We know that is not the case.
"This problem is only made worse by the fact the 9pm watershed does not apply to sport betting ads when sporting events are broadcast.
"During the recent World Cup people were rightly dismayed by the sheer number of gambling ads being shown during afternoon games and throughout the Tournament.
"It is time we had a serious public debate about the troubling nature of the gambling industry's relationship with football.
"We have an epidemic of child problem gamblers in Britain and for the sake of protecting them and other problem gamblers surely we have to question whether the Premier League and other footballing authorities are doing enough to raise awareness of the risks associated with gambling."
ENDS
Notes to editors:
For more information and interview requests please contact Rachael Adams: Rachael.adams@care.org.uk // 07581153693
The tables below show 9 out of 24 (45%) of Premier League teams and 17 out of 24 (71%) of Championship League teams are sponsored by gambling companies. Combined this is 60 per cent of teams across England's top two leagues.
| Premier League Team | Sponsorship |
| --- | --- |
| Arsenal | Emirates |
| Bournemouth | Mansion 88 |
| Brighton and Hove Albion | American Express |
| Burnley | LaBa360 |
| Cardiff City | Visit Malaysia |
| Chelsea | Yokohama |
| Crystal Palace | ManBetX |
| Everton | SportPesa |
| Fulham | Dafabet |
| Huddersfield Town | OPE Sports |
| Leicester City | King Power |
| Liverpool | Chartered Standard |
| Manchester City | Etihad Airways |
| Manchester United | Chevrolet |
| Newcastle United | Fun88 |
| Southampton | Virgin Media |
| Tottenham Hotspur | AIA |
| Watford | FxPro |
| West Ham United | Betway |
| Wolverhapton Wonderers | W88 |
| Championship League Teams | Sponsorship |
| --- | --- |
| Aston Villa | 32Red |
| Birmingham | 888 Sport |
| Blackburn | 10Bet |
| Bolton | BetFred |
| Brentford | LeoVegas |
| Bristol City | Dunder |
| Derby | 32Red |
| Hull | SportPesa |
| Ipswich | Magical Vegas |
| Leeds | 32Red |
| Middlesbrough | 32Red |
| Millwall | TW Drainage |
| Norwich | LeoVegas |
| Nottingham Forest | Betbright |
| Preston | 32Red |
| QPR | Royal Panda |
| Reading | Carabao energy drink |
| Rotherham | Hodge Clemco |
| Sheffield United | Ramsden Currency |
| Sheffield Wednesday | Chansiri |
| Stoke | Bet 365 |
| Swansea | BetUK.com |
| West Brom | Ideal Boilers |
| Wigan | DW Fitness First |
New report highlights gambling is being normalised for young people - CARE
UK gambling industry now takes £14bn a year from punters – report – The Guardian
New Research Lays Bare Public's Frustration with the Gambling Industry - CARE