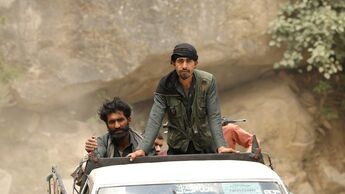 The crisis in Afghanistan is tragic to behold. Citizens, desperate to excape the incumbent Taliban regime, have swarmed the airport at Kabul. They cling to the undercarriage of military jets, swamp the stairways to passenger planes, and hand their babies to complete strangers, hopeful that they will end up somewhere safe. The fear of reprisals, persecution and the denial of human rights is palpable.
In this context, the seeds have been sown for a particular form of exploitation – human trafficking. As Afghans come to terms with the fact they will not all be able to join exiting Western forces, in desperation they will undoubtedly look for other means of escape. Human traffickers, aware that a profit can be made, will happily offer them a passage out, plying them with false promises of a better life. Their 'customers' will then be exploited.
CARE warned about this threat last week. Human Trafficking Officer Lauren Agnew told the media: "The desperate situation in Afghanistan is a recipe for human trafficking. Afghan citizens face an acute risk of exploitation by traffickers as they seek to flee violence and persecution under the Taliban regime whilst nations including the UK only accept a limited number of refugees.

Today, we received a disturbing confirmation of our concerns. The Daily Star reports that an Afghan-born English teacher currently stuck in Taliban ruled Kabul says he is 'fearing for his life' and 'considering paying human traffickers' to escape. The terrified man told the Star: "Human traffickers are so costly but no one is helping me. I have contacted MPs in the UK and they said they would help me, but nothing has happened. I have no choice but to pay a human trafficker."
This is not a choice any human being should be forced to make. Describing the dangers of human trafficking, a form of modern slavery, the charity Anti-Slavery International states:
"Vulnerable people are often forced to take unimaginable risks to try and escape poverty or persecution, accepting precarious job offers and making hazardous migration decisions, often borrowing money from their traffickers in advance. When they arrive, they find that the work does not exist, or conditions are completely different. They become trapped, reliant on their traffickers and extremely vulnerable."
"What trafficking really means is girls groomed and forced into sexual exploitation; men tricked into accepting risky job offers and trapped in forced labour in building sites, farms or factories; and women recruited to work in private homes only to be trapped, exploited and abused behind closed doors with no way out."

Western nations including the UK can expect an influx of trafficking victims from Afghanistan who will quickly fall prey to criminal exploitation. It is therefore vitally important that officials step up efforts to identify victims and free them from those who will exploit them. In the UK context, there are several specific actions that would make a real difference.

Firstly, politicians can tackle demand. We know that many people are trafficked for the purpose of commercial sexual exploitation (CSE). The introduction of new legislation to criminalise the purchase of sex would challenge the demand for sexual services, which creates a market for human trafficking. Northern Ireland has already adopted this 'Nordic model'. MPs and MSPs can do the same, bringing the whole of the UK in line with this approach.
Campaign group Nordic Model Now stresses that the sex trade has declined in countries that criminalise the purchase of sex. This is positive. However, it leads sex traffickers to consider alternative targets – countries with different legislation such as the UK. For as long as the rest of the UK does not implement the Nordic Model, it will continue to be a prime target for criminals and an unsafe place for women, who are the prime targets of CSE.
Legislators can also do more to improve victim care. In 2015, politicians in Scotland and Northern Ireland introduced measures to guarantee support for victims of modern slavery, including human trafficking victims. UK Ministers must ensure that the same entitlements are provided for in England and Wales. To do this, they can support the Modern Slavery (Victim Support) Bill, tabled by Lord McColl, to put 12 months of guaranteed support for victims in law.
Continued awareness-raising and training will also be key in the fight against exploitation. The Home Office stresses that professionals in various public-facing roles should consider learning more: "Whilst many professionals will need training specific to their role…there are some awareness raising materials that will provide a basic level of understanding for all professionals. Even staff that may only rarely be in situations where they might come across modern slavery can benefit from a basic understanding of what to look for.

It isn't just politicians and professionals that can make a difference. As anti-exploitation charity Unseen notes, modern slavery is a crime "happening in our communities, takeaways, hotels, car washes, nail bars and private homes". Every citizen can be on the lookout for signs of exploitation and report any concerns to the authorities. The Unseen website has more information on what to look out for.
The situation in Afghanistan is heart-breaking. However, it can become the catalyst for positive change in support of Afghans fleeing the conflict and people of all nationalities at risk of exploitation.