Govt's failure to prevent sexual violence exposed during key debate
Online Safety
16 March 2021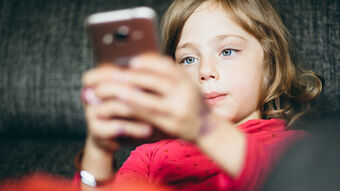 During Report Stage in the House of Lords on the UK Government's Domestic Abuse Bill, Baroness Benjamin spoke to her amendment 87A.
The amendment would require the Secretary of State to assess the impact of child access to online porn and domestic abuse. As part of this work, an assessment must be made on whether Part 3 of the Digital Economy Act would help prevent domestic abuse. If the subsequent report recommends implementing Part 3 of the DEA, the Secretary of State must set a date to do so.
In her speech on her amendment, Baroness Benjamin exposed the failure of the Government to act now to protect children from online pornography.
As she put it:
Read Bar­on­ess Ben­jamin's whole speech
"My Lords, I beg to move Amendment 87A in my name and that of the noble Lord, Lord McColl. I thank the Minister for the meeting that she kindly arranged for the noble Lord, the noble Baroness, Lady Healy, and I to discuss my amendment.
This amendment is an interim measure directed at the provision for the protection of women and children in relation to online pornography before the introduction of the online harms Bill. I am overwhelmed by the support I have received for the amendment from many charities and organisations, especially over the weekend. It is certainly engaging with a very real point of public concern that has been thrown into sharper focus by recent events. Sarah Everard's legacy must be that she died in order for change to happen. Women's actions across the country have shown that they want change.
Before we remind ourselves what Part 3 of the Digital Economy Act would be doing today had it been implemented, it is important to be clear in the first instance about the relationship between the consumption of pornography and violence against women. Noble Lords will remember that the noble Lords, Lord Alton and Lord McColl, and I drew attention in Committee to the Government Equalities Office's research, which was published on 15 January and demonstrated the clear association between pornography consumption and male aggression.
The Government's handling of this research causes me huge concern because, although it is clear from the front cover that it was ready for publication in February 2020, it was not published until a year later. In July, when asked about that during the consideration of this Bill in another place, the Minister implied that the research was ongoing when, in reality, it had been completed for months. Further, even though noble Lords asked about the research at Second Reading, they were not informed of its publication in the Government's letter to Peers, dated 26 January.
My concern increased greatly when I received a letter from the Government last week. It stated:
"The reports make it clear that there is not one single factor that leads someone to engage in harmful sexual behaviour, rather it is a combination of factors which interact with one another to differing effects on each individual. The literature review highlights that a direct causal link cannot be established between pornography and harmful sexual behaviour as this would require impractical and unethical study conditions (forced exposure to pornography)."
I find this response quite extraordinary. First, no one has ever sought to argue that pornography is the only issue. It is obviously one factor among others, but the fact that it is not the only factor does not justify questioning attempts to address it. Secondly, as the letter itself concedes, proving causation is obviously impossible. Rather than deflecting the significance of the research's findings by talking about its failure to do something it could never do, surely the Government's responsibility is to look squarely at what the research does show—namely, that there is a clear association between pornography consumption and sexual aggression and violence. Surely this merits immediate action.
I am delighted that We Can't Consent To This, the campaign group that has become such an inspirational and important voice for women on this issue, wrote to noble Lords calling on this House to vote for my Amendment 87A. In its briefing, it states:
"Our findings suggest a strong association between extreme pornography consumption and the incidence of sexual violence. Of the 3.6 million UK women who have been sexually assaulted, most of the men who do it say they were influenced to do so by porn."
To this end, they call on noble Lords to support my amendment.
Another significant organisation campaigning for this amendment is CEASE, the Centre to End All Sexual Exploitation. It highlights the urgent need for greater awareness of widespread violent content on porn sites and its real-world consequences. It too calls on Peers to vote for Amendment 87A, stating that in the light of the horrendous and tragic case of Sarah Everard and the outpouring of experiences of harassment, abuse and violence shared by women since Sarah's case because public, we have a duty to address factors associated with violence against women. Porn consumption is undoubtedly one of these.
I am also delighted that Women's Aid is supporting my amendment as it upholds its desire to protect women against violence. Over the weekend, I read with huge concern an article in the Evening Standard written by a woman who was subject to a sexual attack in London on the same night of Sarah Everard's disappearance. The author is just one of many women who have stepped forward to share their stories in the last few days.
Leading expert Mary Sharpe from The Reward Foundation wrote over the weekend that it is becoming clear that, since the arrival of broadband in 2008 and the easy access to pornography via smartphones, we have witnessed radical changes in behaviour in our society. If we are to put a halt to the increase in violence, we must understand what impact technology is having on brains and behaviour. In 2018, based on the weight of evidence, the World Health Organization introduced a new category—compulsive sexual behaviour disorder—to its international classification of disease.
Research shows that around 80% of people seeking treatment for this disorder have reported an inability to control their use of pornography, despite negative consequences. Some sufferers are as young as 16. Researchers at Cambridge University found changes to brain structure and functions in compulsive porn users. They found that porn users' brains responded to images of pornography in the same way as cocaine addicts respond to cocaine, and that addiction-related brain changes impair the ability of a user to put the brakes on an impulsive behaviour. For some compulsive porn users, that means the inability to control violent outbursts.
Having looked at the association between pornography consumption and male aggression, we should now remember where we would be today had the Government implemented Part 3 of the Digital Economy Act as planned in 2019. There would have been two crucial consequences. First, we would have an operational regulator charged with taking robust action against any website, regardless of where in the world it is located, that is accessible in the UK and shows what is under UK law the most violent category of online pornography—extreme pornography which is realistic, involves severe injury and an act that threatens a person's life. This has nothing to do with age verification and would help to protect women.
Secondly, under-18s would be protected from accessing porn websites through age verification. This constitutes a critical investment in the future to limit incidences of domestic violence going forward. It means that as children move into adulthood, they will be less likely than they are today to have been exposed to violent pornography which fosters the expectation that violence is a natural form of sexual relationships.
If the Government had followed through on the will of this House and implemented Part 3, today we would enjoy two major protections from the impact of the association between pornography consumption and male aggression and sexual violence. It is utterly tragic that, having demonstrated such wisdom and vision on these issues between 2015 and 2018, the Government misjudged things so spectacularly in 2019. It makes them look so out of touch, especially at this moment when we see such an outpouring of concern about women's safety and the implication of pornography use in those safety concerns.
I have always accepted that the Government eventually intend to address pornographic websites, alongside other online harms, through the online harms Bill. I have said it before, and I will say it again: I welcome the online harms Bill and the ambition to address other online harms, including pornography on social media. However, there is a huge problem with the idea that we can now forget about Part 3 and wait for the online harms Bill because, without doubt, there will be consequences for women and children. Today we have the opportunity to protect women and children in relation to pornographic websites in the interim period between now and when the online harms Bill is ready. This is why I am moving my Amendment 87A.
I have to say that I have found the Government's response to me on this extraordinary. Their letter stated:
"As an indication of the potential timescales involved, the implementation period for Part 3 of the 2017 Act took over two years, following Royal Assent in April 2017 to the proposed commencement date of 15 July 2019. Such a two-year lead in time would run into the Online Safety legislative process".
This suggests that one would have to go back to the drawing board with completely new legislation and guidance. Of course, we could—but if we are concerned about keeping women safe and this interim measure previously satisfied the officials at DCMS, I think we can be sure that, whatever its faults, it is better than nothing, which is what we have at the moment.
This is surely a Sir Humphrey moment if ever there was one, which noble Lords can see through. On one hand, we are asked to believe that implementing existing legislation would take far longer than we need it to; on the other hand we are told that the development of the online harms Bill will happen at a record-breaking speed, as we rush through pre-legislative scrutiny and as the Bill then gallops through both Houses and on to Royal Assent.
The difficulty we all have in believing this is that when the Government said they would not implement Part 3 in October 2019, they promised that the Bill would be delivered last year. It is already March 2021, and we still have no sight of this elusive legislation. Even if it was published and had its First Reading tomorrow, we would still be presented with a longer wait for protection in relation to pornographic websites than if the Government were to announce instead that they would begin to implement Part 3 tomorrow.
Furthermore, the Government have also made it clear that they will address pornography through secondary legislation, which would have to be developed after the primary legislation and then be implemented as well. We were not born yesterday. The notion that it would take a similar amount of time to introduce, pass and implement one piece of legislation as it takes just to implement another which has already been passed is self-evidently nonsensical.
If the Government want to point back to the Digital Economy Act precedent, then so will I. Between the publication of the Digital Economy Bill and the passing of attendant secondary legislation, three and half years elapsed. Let us be clear: the fact that we might get to debate the online safety Bill this autumn—if it is published, rushed through pre-legislative scrutiny and comes to the Lords first—will not change the fact that any protection that it and its secondary legislation afford will not be felt for years. If the Government recognise the urgent need for action, they could redesignate the BBFC as regulator and use the guidance and secondary legislation that Parliament has already approved, and we could feel the benefits of Part 3 in three months—by this summer.
I know that the BBFC is not the Government's preferred long-term regulator. This is a role for Ofcom, but it would be a huge political misjudgment to deny women and children the protection of Part 3 in the interim just because they do not think the BBFC would be quite as good as Ofcom. I believe that it is much more important that women and children should receive protection than condemning them to having none. The BBFC could carry out this role over the next three years and then hand it over to Ofcom when the online harms legislation is ready.
I know that Part 3 does not address pornography on social media. I argued many times in our debates on the Digital Economy Bill that it should be included, but it would be absurd to attempt to justify on that basis not introducing the protections that can now be implemented in relation to pornographic websites. We must introduce protections in relation to pornographic websites now and add in social media as soon as the new legislation is ready. If we wait for the online harms Bill, we will condemn women and children to a less safe second half of 2021, all of 2022, 2023 and perhaps even 2024. I hope that the Government care as much about the damage that pornographic websites will do over the next three years as I do. The same can be said for many members of the public and campaign organisations. There is only one thing worse than not protecting children and women in 2021, 2022 and 2023, and that is having the capacity to implement Part 3 of the Digital Economy Act and simply not bothering to do so.
Without resorting too deeply to technical jargon, the assertion in the Minister's letter regarding the advent of DNS over HTTPS is not credible, and the noble Lord, Lord Browne of Belmont, will address this point in more detail in his speech. The notion that age verification is a threat to personal privacy, which has been put forward by the noble Lord, Lord Paddick, and others is outdated, incorrect and ill-informed because technically no personal information will be shared on porn sites at all, as the Age Verification Providers Association has demonstrated.
I have connections with PSHE associations and I believe in the best possible PSHE provision for children. Those associations also support this amendment and age verification. While we owe children great PSHE, we also owe it to them to make it less likely that they will be exposed to violent online pornography between now and when the online harms regime is ready.
I will conclude with the briefing on my amendment from the organisation, We Can't Consent To This. It argues for the implementation of Part 3 so that we have a regulator to take action against websites that show extreme pornography. That would help foster an environment that is less hostile to women and would make domestic abuse less likely. This is not the time to mess about. We have to stop creating a conveyor belt of sexual predators who commit violence against women and girls. The eyes of the country are on us to see whether we understand what is going on. It has been great to hear that the Prime Minister, Boris Johnson, wants to see action to protect women from sexual harassment and violence. My amendment would give him and the Government an opportunity to do just that.
If the Government are able to make a commitment today to implement Part 3 as an interim measure to protect women and children in 2022 and 2023, I will withdraw this amendment. If they cannot do that, I will divide the House. I beg to move.