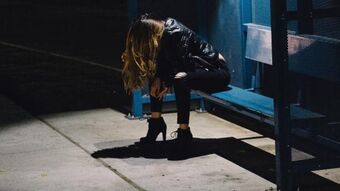 Today it should be a human right to not be in prostitution.
Today is also Human Rights Day. In 1948 the United Nations General Assembly brought the Universal Declaration of Human Rights into being, the timing of which was essential after two catastrophic World Wars which saw around 93.4 million deaths. This declaration has 30 articles which enshrine the rights of the individual and which was the precursor to the International Bill of Human Rights which emerged in 1966 and came into force in 1976. Such is the magnitude of the Bill of Human Rights among nations, in 1988 it was dubbed "A Magna Carta for all humanity".[1]
But does "all humanity" include those ensnared in prostitution?
In 2014 Police Scotland did some investigative work on the scale of prostitution in Scotland and found 3000 online adverts for prostitution.[2] 3000… The vast majority of these are women. These women are not in control of their own visual or written content according to the support groups that come alongside women in prostitution. In other words, there are hundreds and thousands of women in prostitution today who end up there because they have no other choice. As Elaine Smith MSP states: "It is clear that women enter prostitution for socio-economic reasons, not aspirational ones."[3]
Once involved the power dynamics of pimps and traffickers ensure that drug addiction and intimidation become commonplace for women in prostitution. They are ensnared. It becomes almost impossible to get out. Recent statistics show that on average, if a woman wishes to exit prostitution, it can take up to 7 years. In many cases it is impossible.[4]
If you then add to this the awful necessity of putting food on the table plus the aggressive control of the pimps, women are then in regular sexual scenarios that lacks the enthusiastic consent necessary for consent to be consent.
Prostitution is violence against women.
Factsheet #2 for the International Bill of Human Rights begins with: "All human beings are born free and equal in dignity and rights. They are endowed with reason and conscience and should act towards one another in a spirit of brotherhood."[5] If only. Such statements need to be fleshed out in policy terms as well as in consistent policing, health care, social care, and in jurisprudence to be taken seriously. In March 2017 at party conference in Aberdeen, the SNP debated whether they should view prostitution as violence against women. They voted in favour of viewing prostitution in this way, known as the Nordic model.
Today, therefore, we call not only on the Scottish Government to make good on their Equally Safe Strategy to deal with prostitution as a form of violence against women, and to make good on their recent party commitment for the Nordic model, in policy terms. But we simultaneously call on the UN themselves, who are campaigning for these 16 Days of Activism, to specifically include such a human right in their Bill of Rights.
It should be a human right to not be in prostitution.
Stuart Weir - National Director of CARE for Scotland
---
[1] https://www.un.org/rights/50/carta.htm
[2] Exploring Available Knowledge and Evidence on Prostitution in Scotland via Practitioner-Based
Interviews, ISBN: 978-1-78652-641-0, https://www.gov.scot/Resource/0051/00514437.pdf page 13
[3] Quote from the debate in the Scottish Parliament on THE INTERNATIONAL DAY FOR THE ELIMINATION OF VIOLENCE AGAINST WOMEN AND TACKLING COMMERCIAL SEXUAL EXPLOITATION 2018.
[4] https://www.thecourier.co.uk/fp/news/local/dundee/705430/more-than-half-...
[5] https://www.ohchr.org/Documents/Publications/FactSheet2Rev.1en.pdf