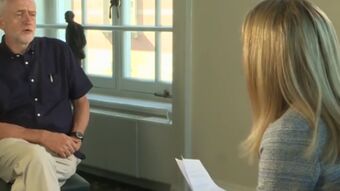 Labour Leader Jeremy Corbyn declared his full support for Britain to look at changing our prostitution laws by criminalising the purchase of sex, also referred to as the 'Nordic model'.
In an interview with Sophie Ridge on Sky, Corbyn said the Government should look to Sweden and other countries where they have successfully brought in laws that make buying sex illegal.
He said: "The Nordic model essentially moves the blame and responsibility onto those promoting the sex industry rather than those that are working in it and I think that's a direction we should think about going."
Sweden was the first country to adopt this approach and since then Norway, Iceland, Canada, Northern Ireland, France and the Republic of Ireland have all followed suit.
Evidence from Sweden shows that the law has been successful in driving down demand for paid sex making the country a far more hostile place for traffickers.
Corbyn also highlighted the need to support women who have been sexually exploited through prostitution: "There are women who have been criminalised… because they've been… into prostitution and grotesquely exploited, they're not criminals they're victims."
For women wanting to leave prostitution the process is rarely easy. Many have a criminal record and finding new employment is difficult. Funding services that provide them with support and the tools they need to rebuild their lives is a vital way of helping them make a clean break.
Corbyn's comments coincide with a recent debate in Westminster last week where MPs from across the House told the Government that paying for sex should be made illegal in Britain.
CARE's Senior Policy Officer for Human Trafficking, Louise Gleich responds:
"Our current laws on prostitution in the UK are failing to deter traffickers, have not kept pace with technology and crucially, they do not protect victims of sexual exploitation.
"Jeremy Corbyn is right to urge the Government to look to the success of Sweden and other countries that have adopted the Nordic model and to bring in laws to criminalise the purchase of sex in Britain.
"Such a law is already in operation in Northern Ireland. We urgently need to extend this legislation across the whole of the UK."