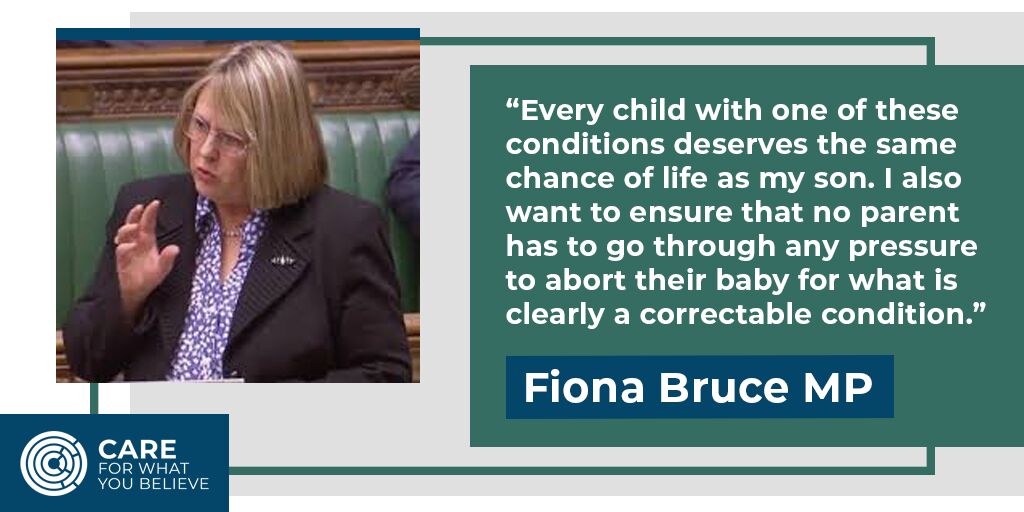 A group of cross party MPs, led by Fiona Bruce MP have introduced a new Bill at Westminster which seeks an end to late term terminations on the grounds that an unborn baby has a clef palate, cleft lip or club foot. The Abortion (Cleft Lip, Cleft Palate and Club Foot) Bill is designed to change the existing law on abortion in England and Wales to clarify that there are no grounds for abortion for such minor and easily corrected conditions.
Did you know?
Between 2011 and 2018, in England and Wales, there were around 75 babies with a principle condition of either a cleft lip or cleft palate aborted.
Due to under reporting the true figure is likely to be much higher. For example, a 2013 review by Eurocat found that 157 babies were aborted with these conditions between 2006 and 2010, but the Department of Health only recorded 14 such abortions.
Will you stand with us?
Under the current abortion law, abortion is legal up to birth if an unborn baby has a substantial risk of being born 'seriously handicapped'. For all other abortions, the legal limit is 24 weeks. The vague wording in the 1967 Abortion Act has been interpreted to include cleft lip, cleft palate and club foot.
This new Bill aims to bring an end to this. 12 MPs from the three largest political parties are already backing it and we're asking you to stand with us by asking your MP to support this vital piece of legislation. Simply put your postcode into the box below and you'll be re-directed to a website where you'll find contact details for your MP.
Points to make
Please use your own words. You may wish to consider making the following points.
With society's attitude towards disabilities considerably improved in the last 20 years, it's shocking that in England and Wales it's still legal to abort up to birth solely because a baby has either a cleft lip or palate or a club foot.
There are official statistics that prove abortions for these conditions have happened but the true extent is likely to be under reported.
Conditions mentioned in this bill are correctable and treatment for club foot is successful in the vast majority of patients.
There are notable examples and testimonies of people who have been diagnosed with club foot, or cleft lip or palate who have overcome them, including former England captain Steven Gerrard, actor and Oscar winner Joaquin Phoenix.