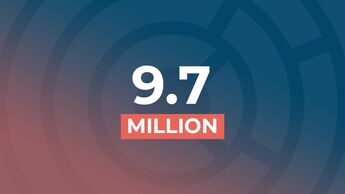 When you work in public policy at CARE, you get used to dealing with huge numbers. Whether it's the estimated number of confirmed modern slavery victims, or the numbers of people in prostitution who have tried to exit in the last 12 months, or the amount of money you think is needed to make world class end of life care available to all, numbers are part of your day-to-day working life. So it's easy to become numb to the truth behind the numbers.
That's just as true when it comes to abortion. 54 years ago, David Steel assured the Commons that the Abortion Bill was only aiming to stop dangerous back street abortions taking place. He had no idea what he was about to open the door to.
Since 1967, an estimated 9.7 million abortions have taken place. Behind that eye-wateringly high number is a person, made in God's own image. And also behind that number are millions of mums and their husbands, boyfriends, partners and wider families. The point is, every abortion affects both baby and mum and the wider family as well.
Working for a Christian charity that believes passionately in the fundamental dignity of all human life, from conception through to life's natural end, anniversaries like this are so deeply tragic. In our culture, abortion is often seen as the only answer to a crisis pregnancy. It has become normalized and ever-more available, especially after recent changes to the law allowing women to take both abortion pills at home.
How do we respond as Christians? How can we respond? I think this anniversary calls firstly for lament. That's not a biblical response we're very familiar with. But it's right there in the Bible. We can and at times should lament over deep injustices. And when contemplating the sheer number of abortions in the last 54 years, surely lament is the starting point.
Secondly, we can and should feel righteous anger. Not anger that leads to revenge. Not anger that leads to hatred of people. But anger at the way the world is and how abortion is now so common. Jesus was angry at times because of death, because of sin, because of injustice and so should we, his servants, be.
Thirdly, we can and we should repent. Because we are complicit. Whether by our silence, or whether by our own failure to truly grasp the beautiful value of these precious lives. We are so afraid, so often, to speak out because it's an incredibly polarizing and sensitive topic. We can also repent of any judgement we've had in our hearts as well. We cannot know every situation. We cannot know the hearts of all those who have had an abortion. We do perhaps forget that forgiveness in Christ is possible for all who believe, no matter what we've done.
Finally, we can support all those seeking to get alongside women who have a crisis pregnancy experience. We can learn about what a pastoral response to abortion looks like. That's where CARE's OPEN Ministry comes in. OPEN is about helping church leaders and congregations engage sensitively in recognition that there will be women in our churches who've had abortions in the past.
The best argument for the value of life is the amazing truth that Jesus came into this world. The Son of God, by whom and through Him the Universe was made willingly became a baby in the womb of Mary. This remarkable truth alone shows us how valuable human life is to God.
One day, all will be put right. Abortion will be no more. Crisis pregnancy will be no more. Failure to conceive will be no more. Miscarriage will be no more. The day is coming when Jesus will return. In the meantime, with love and courage, let's lament, let's be righteously angry, let's repent and let's support those who give practical help.