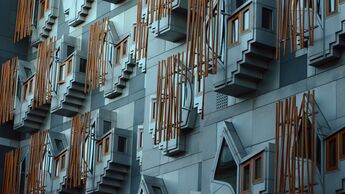 The Scottish Parliament is now back in business after the summer recess. It's already been a hugely significant few weeks, with the Green Party joining the Government for the first time, and parliamentarians outlining their aspirations for the years ahead. Today, the First Minister will outline the Scottish Government's programme for government for the year ahead.
These last few weeks have also marked the start of the first 'full term' for the new class of MSPs elected in May.
For those MSPs arriving in person (many will continue to participate from home under the ongoing hybrid system) some shall stroll past the historic home of John Knox on Edinburgh's Royal Mile, a short distance from the site of the Parliament building.
Knox is regarded as the pivotal figure in the Scottish Reformation of the sixteenth century, a seismic movement of God that saw church and society powerfully reacquainted with Biblical truth. This was captured in the 'Scots Confession' of 1560, a bold statement of pure Christian doctrine approved by the Scottish Parliament itself. Yet despite his substantial spiritual and political legacy, the name of Knox is scarcely heard in discourse today, and if mentioned at all, usually in a derogatory manner.
Jesus warned in Luke 12:48 that: "Everyone to whom much was given, of him much will be required." (ESV) There can be few nations, if any, which have been blessed with as many spiritual privileges over the centuries as Scotland, and yet as Parliament gets to work again, we lament the seeming lack of regard for the Word of God in our land. Indeed, it is a strange providence that the very first item of business in Parliament last week was an address by a member of the Humanist Society.
The challenges facing Scotland's political leaders are immense. Covid rates have been spiralling and are amongst the highest in Europe. From a Christian perspective, we note with concern that measures to legalise assisted suicide are being actively considered, and the likelihood of legislation in the realm of gender identity. Conversely, we can be encouraged at seeming steps towards stricter laws against commercial sexual exploitation, and for MSPs from across the political spectrum who are prepared to speak out for justice and truth.
All MSPs, whom God himself has set in place (Romans 13:1), desperately require His wisdom in these troubled days. Now more than ever Christians must pray for those in the power (1 Timothy 2:1-2), that the fear of God might descend upon Scotland once again. Let us also actively reach out to our elected representatives in the love of Christ, assuring them of our prayers, rather than merely asking them to do something for us.
Ultimately, as the scriptures remind us, Jesus remains upon the throne – whether our leaders acknowledge him or not – and so we must not despair, no matter how deep the darkness may appear at times. As Psalm 2:10-11 exhorts: "Now therefore, O kings, be wise; be warned, O rulers of the earth. Serve the LORD with fear, and rejoice with trembling." (ESV)