Heidi Crowter: 'I will continue fight against downright discrimination'
Abortion
30 September 2021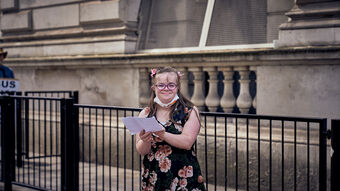 Heidi Crowter, the campaigner who brought legal action against the UK Government for discrimination against preborn disabled babies, has vowed to continue her fight for justice following a ruling against her in the High Court.
Last week, the High Court dismissed a case brought by Heidi, who has Down's syndrome, and Máire Lea-Wilson, whose son Aidan also has the condition, arguing that current legislation allowing abortion beyond the 24-week limit in cases of disability is discriminatory.
In a powerful article for The Metro, Heidi shares details about the legal battle and reveals that she was crushed by the result:
"Last week, we attended the High Court – the result was announced on their website. We just sat in a small room and Paul [our solicitor] talked us through the fact we had lost the case. I was so upset.
"I cannot understand why the judges feel that we are not equal to other people. That's all I want – for unborn babies with Down's syndrome to have the same rights as everyone else.
"There were lots of people with DS and other disabilities there and they were all upset too, but they said they were very proud of me for my work."
But she stresses that her determination to fight on was not dented by the result. In a speech outside the court, Heidi said:
"The fight is not over. The verdict doesn't change how I and thousands of people in the Down's syndrome community feel. We face discrimination every day in schools, in the workplace and in society. Thanks to the verdict the judges have upheld discrimination in the womb too.
"When Wilberforce wanted to change the law on slavery, he didn't give up, even when events didn't always go his way. And when the going got tough he kept going and I'm going to do the same, because I want to succeed."
Concluding her article in The Metro, Heidi adds:
"Now, I feel more determined than ever and we plan to appeal the decision. It is discrimination. I strongly feel the law affects the way people with disabilities view themselves and helps create negative stereotypes. I won't stop until we are recognised as equal members of society.
"But to do that we need more money so if you are able to give some pennies towards our cause that would be fantastic. I believe that life is precious and that everyone should be valued however many chromosomes they have.
"As I said at the end of my speech: I'm not giving up. Let's do this."
To support Heidi, you can donate money to her campaign fund.