Down's syndrome campaigner loses High Court Challenge against abortion law but will appeal
Abortion
23 September 2021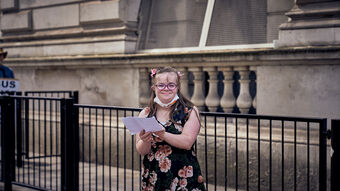 Heidi Crowter, a 26-year old woman from Coventry who has Down's syndrome has lost her High Court legal challenge against current abortion laws.
Responding to the decision at the court today, CARE's James Mildred said it was a "heart-breaking outcome".
Heidi was challenging the part of the current abortion law that allows abortion to birth in cases of 'serious handicap'.
This has been interpreted to include Down's syndrome as well as treatable disabilities like Club Foot and Cleft Lip.
In a ruling on Thursday, the case was dismissed by two senior judges who concluded that the current law aims to strike a balance between the rights of babies and of women.
Heidi brought the case with Maire Lea-Wilson, 33, an accountant whose son Aidan has Down's syndrome and a child with Down's syndrome, identified as A.
In a series of tweets following the ruling, Heidi drew comparison with William Wilberforce's tenacity in pushing for slavery to be abolished, despite strong opposition.
She said:
She went on to say that she'd keep fighting for a change in the law:
Heidi to seek per­mis­sion to appeal the rul­ing at the Court of Appeal
Speaking at the High Court today, solicitor Paul Conrathe said:
Lynn Murray, spokesperson for campaign group Don't Screen Us Out and mother of Rachel, who has Down's syndrome, said: