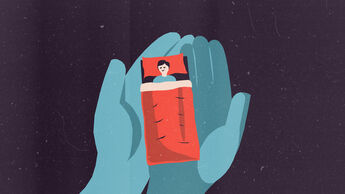 Almost three months after announcing his attention to lodge an assisted suicide bill in the Scottish Parliament, Liam McArthur MSP has now published his proposals coupled with a public consultation. That proponents of the bill have chosen to do so while Scotland remains in the teeth of the Covid pandemic, with some of the highest rates in Europe, leaves a bad taste. While battling, with at best limited success, to curtail a virus that continues to cause the premature death of far too many, how can it be right for Holyrood to be simultaneously considering proposals to authorise the premature death of the sick and vulnerable – the very same people whom we have rightly prioritised for protection from Covid?

As expected, the proposals are deliberately dressed up in the language of reasonableness, autonomy and safeguards. They are however fraught with ambiguity. First up is the misleading use of language. When the late Margo MacDonald previously launched her legislation, it was called the 'Assisted Suicide (Scotland) Bill' and rightly so, for that is what it is. The proposal now being consulted on insists upon using the euphemistic language of 'assisted dying', a term which would more properly refer to the conventional practice of making the process of natural death for very ill patients as pain free as possible. What Liam McArthur is proposing, by contrast, is the deliberate premature termination of a life via a cocktail of lethal drugs.
The Bill proposals also attempt to make the case that people with disabilities support the plans. Again, this is disingenuous. As the Paralympic gold medalist Baroness Tanni Grey-Thompson has pointed out, organisations representing disabled people do not support so-called 'assisted dying'. Similarly, Not Dead Yet UK state: "There are no organisations run by disabled people calling for the law to change." Closer to home, Labour MSP Pam Duncan-Glancy has said: "Unless and until all things are equal, which we know right now they are not, then this bill is dangerous for disabled people." Assisted suicide, by definition, sends a clear signal that certain lives are no longer worth living.

The proposals also play fast and loose with international comparisons. It may indeed be the case, as the paperwork boasts, that "200 million people" can access assisted dying, however in a global population of billions, only a tiny fraction of jurisdictions have in fact legalised assisted suicide or euthanasia. Incredibly, Ireland is cited as being a place where there is "significant activity" in this area, yet an Irish parliamentary committee recently threw out similar proposals there. A more honest examination of the tiny number of jurisdictions that have legalised euthanasia or assisted suicide would quickly reveal the chilling evidence that once such practices are legalised, they become normalised, with cases having rocketed in Belgium, the Netherlands and Oregon.
While MSPs must consider the legislation as presented to them, it must be hoped they seriously scrutinise the evidence elsewhere, and observe that any so-called 'safeguards' will inevitably be weakened or removed in the courts or by Parliament itself. In Canada, where 'medically assisted dying' was legalised only recently, it is poised to be extended on the grounds of mental health – a truly horrifying proposal. As Jamie Szymkowiak, the SNP national disabled member's convenor put it recently: "When you are a disabled rights activist and people are suggesting that they're going to look at best practices across the world, and many of those that support…assisted suicide look at Canada, that is what strikes fear into our hearts."
The proposals are also especially disingenuous on the matter of religious views, selectively citing individuals or groups outside of the Christian mainstream. No mention is made of the fact that the Church of Scotland, the Roman Catholic Church, the Muslim Council of Scotland, and many other denominations or alliances, between them representing vast swathes of Scotland's religious communities community, are firmly opposed to McArthur's plans. As Lord (Jim) Wallace, McArthur's own predecessor as MSP for Orkney, and current Church of Scotland Moderator, has eloquently expressed it: "The current societal protection of life is clear and to move away from this would…represent a 'crossing of the Rubicon' from which there would be no return. This would have profound effects on how society regards those in our communities who are vulnerable, not just the elderly and infirm but also those with disabilities and those who are unable to speak up to protect themselves."
The consultation documents are predictably silent on the 'cost savings', despite there being a section on 'resource implications'. As proponents are well aware, the financial cost of a dose of lethal medicine would be dwarfed by the eye-watering costs of social care. While deliberate coercion could be a problem in extreme cases, a far wider, and inevitable, result of the proposed legislation would be very sick and vulnerable people feeling an invisible pressure to at least consider assisted suicide out of fear of being an emotional or financial burden upon family or an already woefully over-stretched NHS. To add this pressure onto already sick and vulnerable people would not be an act of compassion.
Ultimately, assisted suicide would once and forever alter and undermine the duty of care and bond of trust that has underpinned the doctor-patient relationship since the advent of modern medicine. It is also heart-breakingly sad that the proposers intend to make assisted suicide available to Scots as young as sixteen. Rather than pursue this dangerous and retrograde policy, MSPs should focus all their efforts on making Scotland a world leader in palliative care. Dignity and comfort at time of death do matter, but it is gold standard palliative medicine, not premature termination of life, that is the key to securing this for more of our fellow Scots.