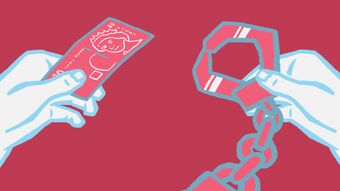 A new campaign involving sex trade survivors and members of frontline services is calling on the Scottish Government to introduce the so-called 'Nordic Model', which criminalises the purchase of sex.
A Model for Scotland, which launches officially this week, believes shifting the burden of criminality onto those who facilitate prostitution, rather than women involved in prostitution, will safeguard the vulnerable whilst reducing demand for the purchase of sex.
Sweden spearheaded this approach more than two decades ago and saw a reduction in sex trafficking and other forms of commercial sexual exploitation. Other countries including Norway, France, Israel and Northern Ireland have also introduced similar reforms.
Diane Martin, a survivor of sex trafficking and prostitution and chair of A Model for Scotland, is urging Scottish Ministers to follow the lead of other nations in ushering in the Nordic Model and recognising that prostitution is a "form of violence against women".
In an opinion piece for The Scotsman newspaper, Ms Martin wrote:
"Our current prostitution laws are outdated and unjust. Online pimping is legal and there is no accountability for sex buyers, while those selling sex can face criminal sanctions on top of daily abuse and exploitation.
"The Scottish government urgently needs to criminalise pimping websites and paying for sex. At the same time, it must decriminalise victims of sexual exploitation and provide support and exiting services. These reforms are needed to deter demand from sex buyers and tackle the pimps who profit from this abuse."
She added:
"I want a Scotland where girls and boys are safe; where they grow up with positive opportunities to build the lives they dream of – not to be funnelled into the dehumanising and violent systems of prostitution.
"I am proud to chair A Model for Scotland, an alliance of survivors and frontline support organisations calling on the Scottish government to put into action its policy that states unequivocally that prostitution is violence against women and to make good on its pledge to develop a model challenging demand for prostitution. It will be for the benefit of some of the most vulnerable people in Scotland – and for society as a whole."
In 2015, Members of the Northern Ireland Assembly voted for the Human Trafficking and Sexual Exploitation Act. Section 15 of the Act makes buying sex a criminal offence in Northern Ireland. CARE had worked with MLAs to see the reform introduced.
A spokesman said:
"The Nordic Model recognises that commercial sexual exploitation is a serious harm that overwhelmingly affects women and girls. It is right that those who facilitate prostitution and fuel demand should face penalties, rather than vulnerable women who are the target of exploitation. We call on the Scottish Government to follow the lead of Northern Ireland, the republic of Ireland and other nations in enacting this compassionate approach."