"Shameful" refusal to usher in age checks sees 16,000 hours of child access to porn
Online Safety
31 August 2021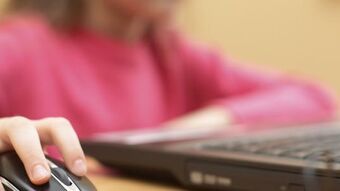 The UK Government's "shameful" refusal to implement age checks for online pornography has left children able to access porn sites for 16,000 hours, CARE has warned, as pressure mounts on Ministers to usher in tighter controls.
This morning, CARE hit out at the government for failing to implement specific age verification safeguards for porn sites agreed by parliament in 2017. Implementation of the measures was delayed and finally cancelled by the government on 16 October 2019.
There are 685 days between 16 October 2019 and 31 August 2021, which equates to 16,440 hours without age verification. CARE spokesman James Mildred said:
"Ministers have refused to enforce these safeguards for almost two years now. This means more than 16,000 hours of children being able to access porn sites full of disturbing and dangerous content that sends harmful messages about sex and consent.
"The government is standing idly by whilst the tools to prohibit access sit unused. It's not clear why they are refusing to do this as the technology for age verification is ready to go. In light of this and the obvious harms of pornography to young people, there's only one word for Ministerial inaction – shameful."
"Part 3 of the Digital Economy Act is 'oven ready'. It can be enforced within weeks. We call on MPs of all parties to work together to force the government to act. Children shouldn't have to wait years until the government's online safety regime is ready to be enforced. They need protection now."
This morning, senior MPs and the English Children's Commissioner called for stricter controls on social media platforms, including age verification. Damian Collins MP and Julian Knight MP are among MPs calling on Ministers to do more. Mr Mildred added:
"We also support age verification for social media platforms. Young children can bypass current controls on the likes of Facebook and Twitter easily and be exposed to all manner of disturbing and age-inappropriate content. For the sake of child safety, companies must do more to prohibit underage access. If they do not, the government has a moral duty to intervene.
"We'd also urge MPs to think about whether the age limit suggested by companies is too low. On some platforms, extreme content such as pornography can be uploaded by users. These same platforms allow 13-year-olds to sign up. Companies should either change their rules to ban sexually explicit content or raise the sign-up age to 18."
In June, polling of the UK public found that eight in ten adults want the Government to implement age verification controls for access to online pornography. The same proportion said there should be an age limit of 18 for access to pornography sites.
At the time, Paul Conrathe, solicitor with Sinclairslaw, which is bringing the legal action against the government for failing to introduce age verification, commented:
"Despite it being the clear will of Parliament that Age Verification should be put in place as soon as possible back in 2017, the Government have failed to act. It is astonishing that faced with clear evidence that online violent pornography is widely accessed by children and harmful to them the Government dithers and prevaricates. The findings of this poll vividly show the depth of concern felt by people at the harm that is being experienced by children and the need for Age Verification."