Govt's failure to crack down on extreme porn linked to Sarah Everard murder
Online Safety
29 July 2021
The Government have been questioned about their failure to clamp down on violent pornography websites in the UK, after it emerged that Wayne Couzens, who raped and murdered Sarah Everard, was obsessed with violent, extreme porn.
Speaking in the House of Lords, Baroness Benjamin asked the Government whether they had considered the impact of their decision not to implement Part 3 of the Digital Economy Act on the safety of women and girls, in light of Everard's murder.
Porn web­sites going unregulated
Baroness Benjamin pointed out that, had the Government implemented Part 3, this would have meant that, since the beginning of 2020, there would have been 'a regulator with powers to take robust action against any pornographic website showing extreme, violent pornography in the UK.'
Coupled with recent reports that sexual harassment amongst children is being fuelled by extreme porn, there is mounting evidence that the unregulated porn industry is causing widespread harm to women and girls, and that action must be taken.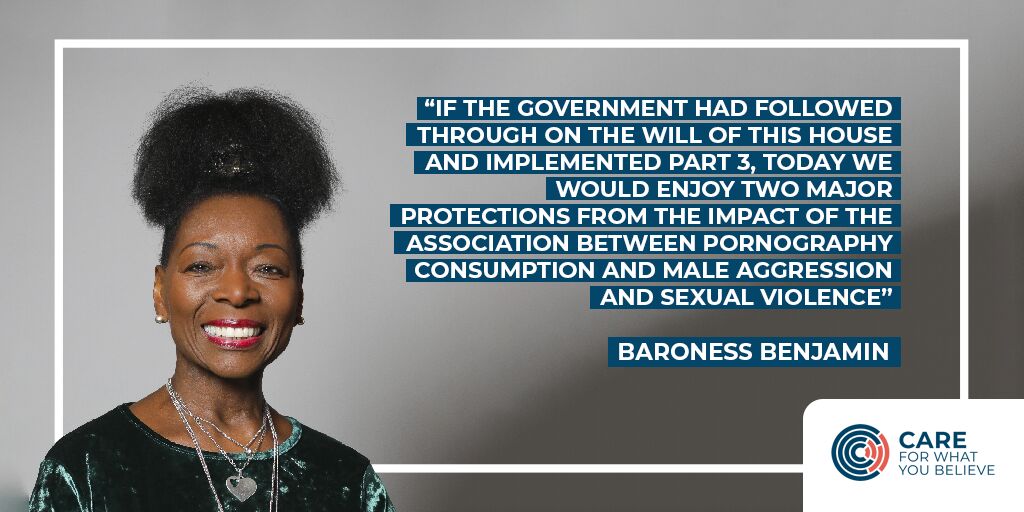 Does not tackle viol­ence against women
The Government responded that Baroness Benjamin was 'absolutely right in what she said' and that the Online Harms Bill will look to address these concerns, but will only go 'some way towards addressing it'.
However, this response is at odds with the Government's strategy to tackle violence against women and girls, newly launched last week.
The strategy highlights the link between pornography and violence:

The Gov­ern­ment can take action now
CARE has been calling on the Government to implement Part 3 of the Digital Economy Act since it was first passed in 2017.
Despite promising to implement it, the Government reneged on their commitment. When they published the draft of their Online Harms Bill, this repealed Part 3 of the Digital Economy Act.
The Government have stated that they want to take a more holistic approach to tackling harmful content online, but in the meantime, they are delaying implementing legislation that has already been passed by Parliament and could have an immediate effect on reducing access to harmful content online, and therefore on violence against women and girls.

The response from the Minister to Baroness Benjamin's question suggests the Government still plan to follow this course of action.
Naomi Marsden, Deputy Head of Communications, said: