Is the US Supreme Court about to overturn Roe v Wade?
Abortion
21 May 2021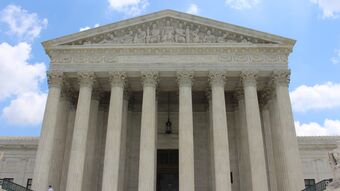 The US Supreme Court has announced it will consider an abortion case from Mississippi which has the potential to overturn Roe v Wade.
Oral arguments will be heard in October with a final decision possible in time for the Mid-Terms in 2022.
But what is Roe v Wade? Why does this case matter? Could abortion law in America really change as a result of this court hearing?
In this new long-read, CARE's James Mildred investigates.
Here's a short extract:
If you've been involved in the pro-life movement, you'll have heard about Roe v Wade. But do you know what it is and why it's so significant?
Roe v Wade was the seminal legal case which opened the floodgates to widespread abortion across America. It's where the court said a woman's right to choose an abortion was implicit in her right to privacy under the 14th amendment to the US Constitution.
Since then, lawyers and academics have argued over the verdict and its interpretation. But one thing has been consistent since the ruling: lives have been lost as a direct result.
Now, after nearly five decades, the case will be challenged in the Supreme Court.