100+Peers support calls for immediate action to tackle online porn
Online Safety
18 March 2021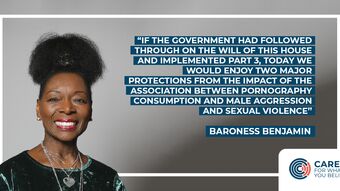 On Wednesday evening, more than 100 Members of the House of Lords voted for Baroness Benjamin's amendment 87A to the Domestic Abuse Bill.
During Report Stage, Baroness Benjamin had opportunity to raise the Government's failure to implement Part 3 of the Digital Economy Act (DEA).
Four years ago, the DEA was passed by MPs and Peers and this included provisions for the UK to become the first country in the world to introduce age verification to all commercial pornographic websites.
This itself was the direct result of a 2015 Manifesto Commitment by the Conservative Party.
Since then, there's been more and more evidence of children accessing online porn, a situation exacerbated by successive covid-19 lockdowns.
Moreover, with the recent Sarah Everard tragedy, Peers pointed out on Wednesday's debate that Part 3 also includes an operational regulator with powers to crack down on the most extreme forms of violence pornography.
Why is this so important? CARE's James Mildred explained:
Peers speak out
Despite regulations being approved in 2018 for age verification by both Houses of Parliament, the Government suddenyl abandoned the scheme in October 2019.
It claimed then as it still does today that it will go further with its new online harms bill.
The problem, however, apart from the fact that in reality the new bill won't go as far as Part 3, is that the legislation has still not been introduced before Parliament.
Given that it took four years from when the DEA was first introduced to the relevant regulations being approved, it will be sometime before any protections are actually in place.
Speaking on Wednesday in the House of Lords, Baroness Buttler-Sloss said:
"As noble Lords know, pornography is easy to access online, and we know that children are susceptible. I remember being told by the manager of a refuge about a little boy of five hitting his younger sister, who was four; when he was asked why he did it, he said, "That is what daddy does to mummy every day". Noble Lords may remember that the 10 year-old killers of the little Bulger boy had watched the most appalling videos before they carried out this tragic murder, copying some of what they had watched. Since age verification has been approved by both Houses, I share the view across the House that it should now be implemented in this Bill."
Baroness O'Loan explained that Part 3 also included an operational regulator to take robust action against porn websites showing extreme porn:
Had the Government implemented Part 3 of the Digital Economy Act as planned, we would have had a functioning regulator today. He or she would have been able to take a series of robust actions against any pornographic website showing illegal extreme pornography. We would have seen the introduction of age verification on pornographic websites.
Lord Morrow agreed:
In recent debates, much has been said about how Part 3 of the Digital Economy Act protects children from pornographic websites through age verification. That is certainly very important because, if Part 3 was in place now, children today would be less likely to be exposed to pornographic websites. It would therefore be less likely that they would move into adulthood with the expectation that violence is a natural part of sexual relationships, with all that this means for behaviour.
However, after the events of last week, it is also important to stress that another feature of Part 3—namely, the regulator's power to take robust action against websites showing illegal extreme pornography, regardless of age verification—is important, because it will help foster an environment that challenges the normalisation of violence against women. It is a vital change that women and children could benefit from right now, that could have brought huge benefits from last year and, crucially, that could bring huge benefits very quickly.
Summing up, Baroness Benjamin said:

In its response, the Government refused to acknowledge the range of points made by so many Peers.
The Minister insisted instead that the new online harms bill was the real deal and would offer suitable protection.
It's now expected that this Bill will be published for 'pre-legislative' scrutiny after the Queens Speech in May.