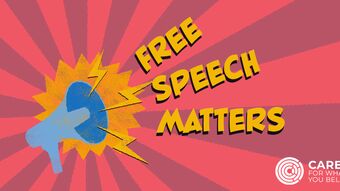 The UK Government is planning to appoint a 'free speech champion' for higher education and are also planning to change the law to protect free speech in universities.
First detailed in the Sunday Telegraph and then confirmed by Government sources, the new post will be based in the Office for Students.
The role will involve powers to fine universities and student unions if they are deemed to wrongly restrict free speech.
This includes attempts to cancel, dismiss or demote people their views.
A source from the Department of Education told the Telegraph that the new role is needed because:
Pub­lic con­cerned about free speech
The move comes as new polling from the Reclaim Party showed 49% of Britons believe they are less free to say what they think than five years ago.
This week the Education Secretary, Gavin Williamson, will announce the new laws that will place universities under a duty to promote free speech.
Only last month, backbench MP David Davies launched a new private members bill with the very same aim.
New research from the Alliance of Pro-life students also shows a staggering 70% are afraid to mention their views during seminars or lectures for fear of a backlash.