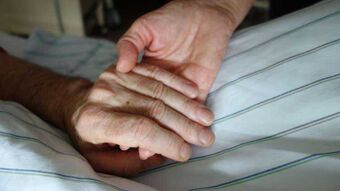 New evidence shows the number of people choosing assisted suicide in Canada's largest province reached a record high in 2020.
The figures come from the Office of Ontario's Chief Coroner.
Since euthanasia was first legalised in Canada in 2016, just under 7,000 Ontario residents have used the system, according to the Catholic Register.
In 2020, there were 2,378 assisted suicides in Ontario, up from 1,789 the previous year, 1,499 in 2018, 841 in 2017 and 189 in 2016.
The Canadian Government is currently pushing through another assisted suicide bill which would open it up as an option to even more people.
Responding to the figures, Alex Schadenberg, executive director of the Euthanasia Prevention Coalition said:
'

Slip­pery Slope'

What these latest figures prove is what CARE and many other groups have long argued that if you legalise assisted suicide / euthanasia, within a short period of time it becomes 'normalised' and the result is higher numbers.

How can you possible guarantee that no-one is being coerced pressurised into ending their own life? The answer is you cannot provide that guarantee. There are no safeguards that are actually 'safe enough', despite the claims of pro-assisted killing campaigners.

So, legalising assisted suicide would be a huge experiment and it's not as if it's not been tried elsewhere. In places like Ontario, Oregon state you see numbers rising year on year. Closer to home, in Belgium and the Netherlands, it's an even worse situation with children being euthanised. The youngest in Belgium was just nine years old.

Legalising assisted suicide would be a retrograde step as a society. There is a better way and as CARE's CEO Nola Leach argues, it involves investing in quality palliative care, not assisted suicide.
Take Action!