Assisted Suicide would 'reduce the autonomy of the most vulnerable'
Assisted Suicide
11 January 2021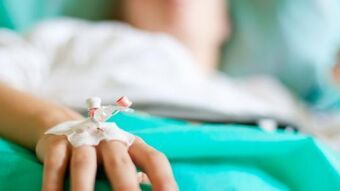 Calls for a change in the law to legalise assisted suicide in Scotland have been criticised by the campaign group Our Duty of Care.
In a letter published by The Herald, Dr Gillian Wright warned that respect for individual autonomy, while important, 'cannot be absolute in a community'.
People who are disabled or dependent on others are of 'extraordinary value and worth' and 'Society should reaffirm this when they feel of little worth or dread dependence'.
When it comes to debates around assisted suicide and euthanasia, the people politicians should be listening to are 'those who are frail and elderly, those with dementia' and for the sake of all of these people 'we should ensure there is no move to assisted suicide and euthanasia in the UK'.
Change of mind
Dr Wright was responding to an article published by the Telegraph by Ruth Davidson MSP, former leader of the Scottish Conservatives.
When the Scottish Parliament last voted on assisted suicide, Ms Davidson voted against the Assisted Suicide Bill.
In the article, she said she made a mistake and now supports a dangerous change in the law.
Dangers of leg­al­isa­tion highlighted
In the letter, Dr Wright points out that in other countries, it's possible to identify some of the problems with assisted suicide and euthanasia laws.
For example, a review of involuntary euthanasia in Belgium in 2015 found that one in 60 deaths occurred without the patient's explicit consent.
Another disturbing example comes from the Netherlands where a woman with dementia was sedated and held down by her family while she was given the lethal injection.
She had requested euthanasia at the onset of her dementia, but later, when asked three times if she wanted to proceed, each time answered 'No'.