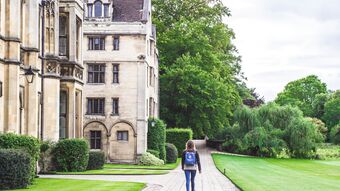 Cambridge University has dropped its controversial plans to force academics, students and visitors to 'respect' opposing views.
In a crucial vote for freedom of speech the university's policy was amended, following considerable opposition from its academics who feared it could impede on robust debate and lead to staff being faced with disciplinary actions simply for being 'disrespectful'.

It now states that people must 'tolerate' rather than 'respect' opposing views, after academics and alumni voted overwhelmingly in favour of amendments to the policy.
Aca­dem­ics ini­tially fear­ful to speak out
An earlier version had been successfully passed by the university's council, with little serious opposition from staff.

That was until a senior philosopher lecturer, Arif Ahmed, began garnering support to oppose the policy, creating the Campaign for Cambridge Freedoms.
Earlier this week, Ahmed told The Times that he had found colleagues initially fearful and reluctant to oppose the policy publicly, feeling they were living in "an atmosphere where there are witch hunts going on, a sort of academic version of Salem in the 17th century or the McCarthyite era"

Policy dan­ger­ously vague
According to Ahmed, the policy's statement that staff, students and visitors should be "respectful of the differing opinions of others" was a threat to free speech — which the university should be trying to protect.
He described the concept of respect as "dangerously vague and open-ended" and said it "I think it's dangerous, particularly at an institution which exists for the sole purpose of seeking the truth and is not for the purposes of being nice to people."
Now harder to no-platform
At least 77 per cent of those who voted on the policy — around 1,200 academics — were in favour of Ahmed's motion.
Aside from changing the wording, another amendment tabled by the academic also made it harder to disinvite speakers, known as 'no-platforming' — an increasingly common occurrence at universities, and one that has been criticised by the Joint Committee on Human Rights.
Speaking after the outcome of the vote, Ahmed commented, "I think this process shows that the number of people in the university who are illiberal are a loud but small minority. The vast majority are fundamentally committed to free speech."

Vic­tory for free speech in university
This outcome is a considerable victory, after a mounting series of incidents in the past few years where staff and students have been targeted for their views at universities across the UK.
As one of the most influential institutions in the world, this vote will likely have a considerable impact on freedom of speech at other universities.

Coupled with the recent free speech victory for a student midwife's at Nottingham University, the tide may be turning against the more draconian forms of censorship visible in universities in recent years.