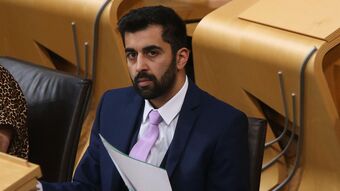 The Scottish Government's controversial hate crime bill passed Stage 1 by 91 votes to 29 after MSPs voted in favour of the general principles of the bill. It now moves to further scrutiny at Stage 2.
The legislation has been highly controversial with critics raising a series of concerns about free speech.
The Justice Committee published its Stage 1 report last week on the bill and urged the Cabinet Secretary to go further and make further amendments.
In response, the Cabinet Secretary for Justice, Humza Yousaf made a number of last-minute concessions to try and ensure the bill passed.
This included removing entirely the 'inflammatory material' section of the bill and strengthening free speech protections.

The debate itself is worth reading, with some notable contributions from across the Chamber. The legislation moves to Stage 2 in the New Year where further amendments are expected.
Bill passes Stage
1

but fur­ther changes expected

Opening the debate, Mr Yousaf called on MSPs from across the chamber to pass the legislation and he pointed to the changes he'd already accepted to the bill as evidence of his willingness to listen.

Justice Committee Convenor Adam Tomkins said in his view, the changes still did not go far enough.
Scottish Labour's James Kelly said:
Tory MSP Liam Kerr also said he wanted further concessions from the Scottish Government:
Speaking on behalf of Scottish Labour, Rhoda Grant MSP said the party had 'real concerns' about the way the Bill had been drafted. She too called for further changes, arguing the Cabinet Secretary:
Closing the debate, Mr Yousaf said the Scottish Government would continue to be open minded towards amendments at Stage 2.
Some wel­come changes, but MSPs are right to call for more changes
There's no denying the Scottish Government have moved when it comes to the hate crime bill. Since it was first published, there's been a whole series of changes. For example, Mr Yousaf removed the section which would have criminalised someone for carrying 'inflammatory material'. Some had warned this could be applied to the bible. Mr Yousaf also said specific provisions related to theatrical performances would be removed.
However, serious concerns remain. For example, there is no dwelling defence in the bill. This means people could be found guilty of breaking the criminal law for expressing views or showing material in their own homes. Lingering concerns remain in relation to the new offence of stirring up hatred, easily the most contentious part of the bill. More could also be done to improve free speech protections.
The hate crime bill will move to Stage 2 in the new year. It will be a fresh opportunity to push for further changes to safeguard free speech.
Find out more