Emmerdale Down's syndrome abortion storyline dubbed 'insulting and offensive'
Abortion
19 November 2020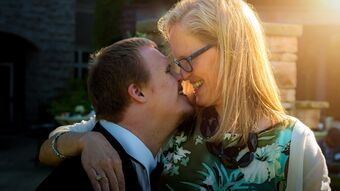 An upcoming storyline in the ITV soap Emmerdale has incited widespread criticism from the Down's syndrome community.
The storyline features Emmerdale characters Laurel and Jai making the devastating decision to abort their baby after finding out there is a chance it could have Down's syndrome.

Plot­line per­petu­ates ​
'

embed­ded pre­ju­dice' towards people with Down's syndrome
Hazel Toal, who describes herself as pro-choice, has a daughter with Down's syndrome and is involved in the charity Wouldn't Change a Thing, which challenges stereotypes of people with the condition.
She said, "My heart breaks because when this storyline runs, people with Down's syndrome will watch this and wonder why they're terminating a baby like them."
She highlights the role that negative stereotypes of disability plays in termination decision-making, stating that "one of the biggest reasons people terminate is because of poor information."
Wendy O'Carroll, who founded the charity Ups and Downs, also criticised the producers in an open letter:
Sarah Costerton, a Christian with a child with Down's syndrome, described how having a child with Down's syndrome had enriched her life and given her a community — something that is completely missed in the Emmerdale storyline:

Cam­paign launched in protest
A petition calling on the producers to cancel the show has now been signed over 23,000 times, demonstrating the strength of feeling amongst many that the storyline should not go ahead.
One MP even wrote to Dame Carolyn McCall, Chief Executive of ITV, calling on her to intervene to drop the story before the 30th November, when it is due to be broadcast.
Pro­du­cers did not get bal­anced view of Down's syn­drome beforehand
The producers argue the episode is 'well researched and sensitively written' and believe they 'consulted widely' before going ahead — speaking to medical professionals, people with lived experience, and the organisation Antenatal Results and Choices (ARC).
However, they have been criticised for not seeking a more balanced view of life with the condition, such as neglecting to consult with Down's Syndrome Association.
"They didn't talk to any charities or organisations for people with Down's syndrome to find out about their lives.", argues Hazel Toal.
Sarah Costerton also points out that ARC previously existed purely to help parents who had already made a decision to terminate, and are therefore not 'impartial'.

Time to chal­lenge Britain's dis­crim­in­at­ory abor­tion law
Last year, there were 656 abortions for babies who were said to have a chance of having Down's syndrome.
The Sunday Times reported that the numbers of babies being born with the condition also dropped by 30 per cent, following the introduction of more accurate antenatal screening.

With a case soon to be heard in the High Court challenging Britain's discriminatory abortion law, producers could soon find themselves falling foul of equality law if they continue to make storylines that perpetuate discrimination against people with disabilities.