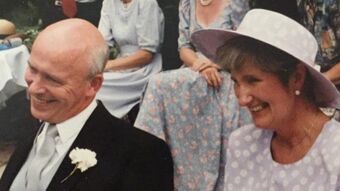 A few years ago, our Chief Executive Nola Leach lost her husband of nearly 50 years after a two year struggle with Alzheimer's.
In this film, Nola speaks honestly and openly about the struggles and griefs of watching Tony deal with the disease. She also speaks about the joys found even in the sorrow.

Assisted Sui­cide — should the law change?
This film comes as pressure is growing in England and Scotland to change the law and legalise assisted suicide.
Nola points out that the current law gave her confidence that doctors were truly acting in Tony's best interests. She also articulates a fear many of us share, namely that changing the law could open the door to abuse and exploitation.
We hope you find the film helpful, informative, challenging and yet encouraging, too. Nola's final comments reflect the amazing hope and joy that is found in Jesus. That, ultimately, is our greatest hope in life and in death.