MPs urged to champion care and not be naïve about the threat of assisted suicide
Assisted Suicide
11 September 2020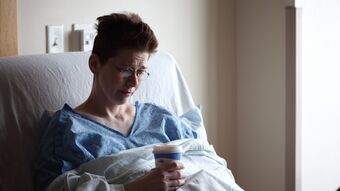 On Thursday evening, MPs from across the UK were warned of the danger of changing the law on assisted suicide, and the message it sends to those who are vulnerable in our society.
Since the previous attempt to legalise assisted suicide in England and Wales was comprehensively defeated in Parliament in 2015, pro-assisted suicide campaigners have continued to argue for the law to change.
Fiona Bruce MP (who Chairs the All Party Parliamentary Pro-Life Group) welcomed two eminent speakers to a webinar for MPs to consider the claims of pro-assisted suicide campaigners and think critically about whether assisted suicide can ever be a safe path for the UK to follow.
Professor Theo Boer, a Dutch professor of ethics who has served on a Regional Review Committee on Euthanasia in the Netherlands, spoke powerfully, warning MPs that supply inevitably generates demand. He spoke in stark terms about the changes there have been to the law in the Netherlands over time, with patients now being euthanised as a result of dementia or psychiatric conditions.
Tellingly, Professor Boer warned that in the Netherlands the conversation has shifted from a narrative of wanting to prevent people from suffering a terrible death, to preventing people from having a terrible life. When death is presented as the solution to any form of apparently unbearable suffering, it profoundly warps and harms society and particularly the vulnerable.
Speaking from the US, lawyer and author Wesley Smith urged MPs to resist efforts to stymie debate in the UK:"euphemisms distort and deflect from the brutality of what is being spoken about – the deliberate ending of life, where someone's desire to die is validated by a doctor who provides the means to do it".
Addressing the challenge of engaging in debate where the media and popular culture seem skewed in favour of assisted suicide, he implored MPs to challenge the narrative that there is no means of dignified death beyond assisted suicide. Furthermore, Mr Smith warned that when assisted suicide is legalised, the door is opened to the notion that some people are expendable; even worse, having opened the door, these people are then abandoned and channelled down a pathway towards assisted suicide.
Mr Smith concluded by noting that the important debate was not over who should be able to access assisted suicide, but rather how we as societies should respond to and value people who have suicidal ideation. Assisted suicide is not, remarked Mr Smith, compassion; it is abandonment and must be resisted at every opportunity.