New poll shows majority in NI opposed to abortion to birth for disabilities
Abortion
15 June 2020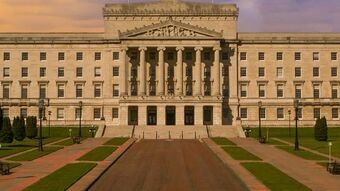 The majority of people in Northern Ireland do not support abortion to birth for Cleft Lip, Cleft Palate or Down's syndrome, according to a new poll.
Belfast-based pollster Lucid Talk conducted the poll of people living in Northern Ireland between 3-5 June on behalf of CARE NI. There were 1,878 respondents.
In total, more than two thirds of respondents (72%) said they were against abortion to birth for otherwise healthy babies with a Cleft Lip or Palate.
Nearly half (49%) were strongly opposed, with 23% opposed and only 15% either supportive or strongly supportive of the new abortion law in Northern Ireland.
Meanwhile, just over two thirds (67%) of respondents were either strongly opposed (42%) or opposed (25%) to abortion for Down's syndrome between 24 weeks gestation up to birth.
Under the UK Government's new abortion laws for Northern Ireland, abortion will be legal up to birth in cases of 'serious disability' which in Great Britain has included Down's syndrome and Cleft Lip and Palate.
The polling further emphasises how deeply unpopular the UK Government's new abortion regulations for Northern Ireland are.
Recently, (Tuesday 2 June), the Northern Ireland Assembly passed a motion by 46-40 rejecting the imposition of abortion legislation, including abortion to birth for all non-fatal disabilities.
In the two votes held, 75 MLAs voted to make it clear they rejected the provisions in the regulations allowing abortion for non-fatal disabilities.
Today CARE NI said that the polling only highlighted yet again that Westminster is out of touch and the issue of abortion law should be returned to the NI Assembly.
Members of the House of Lords will vote on the regulations on Monday 15 June. Lord Shinkwin, who was born with Osteogenesis imperfecta, a rare genetic brittle bone disease, has tabled a motion which, if supported, will mean the regulations will fall.
Northern Ireland MP, Carla Lockhart, said:
"These polling results underline yet again why it is monstrous that the UK Government should seek to impose a discriminatory abortion regime on Northern Ireland.
"In crafting regulations that say it is OK to terminate viable unborn babies between 24 gestation and full term because they have a non-fatal disability, while saying that viable babies of exactly the same age should be protected from this because they don't have a disability, the law says loud and clear that the lives of people with non-fatal disabilities are less valuable than those with fatal disabilities, with fatal consequences.
"As such the Secretary of State directly violates Parliament's instruction to him to bring forward regulations that are compliant with the CEDAW report stipulation that changes in the law with respect abortion in cases of disability must be made 'without perpetuating stereotypes against disabled people'.
"That it would have been perfectly possible for him to comply with Parliament's instruction is demonstrated by the way the Republic of Ireland's law deals with non-fatal disability."
Heidi Crowter, Down's syndrome campaigner, said:
"The idea of abortion up to birth for Down's syndrome being imposed on Northern Ireland is deeply offensive to me.
"It makes me feel like I should not have been born.
"As this polling demonstrates, many people in Northern Ireland agree and I am therefore calling on MPs and Peers to respect my right to life, and the right to life of other people with Downs, and other non-fatal disabilities, as they vote.
"It is disturbing to me that MPs and Peers should even contemplate approving regulations like these in 2020, clearly sending out the message that I, and other people experiencing non-fatal disabilities, are second class citizens?
"I hope all MPs and Peers will pay close attention to this poll."
CARE's Chief Executive, Nola Leach, said:
"Abortion on the basis of disability is one of the most troubling aspects of the UK Government's regulations and clearly the vast majority of people in Northern Ireland agree.
"To impose abortion to birth for Down's syndrome and Cleft Lip or Palate would be a backwards step, especially in the light of society's improving attitudes towards those with disabilities.
"There is considerable anger in Northern Ireland at having such extreme abortion laws imposed on them by MPs and Peers at Westminster.
"This week represents the last chance for the UK Government to withdraw the regulations and respect the devolution settlement by handing the matter back to the Northern Ireland Assembly.
"If the UK Government does not withdraw the regulations, then Peers should vote no on Monday and MPs on Wednesday.
"We would urge them to support Lord Shinkwin' s motion, which clearly highlights how the regulations discriminate against people with disabilities."
Life Peer, Lord Shinkwin, said:
"This polling demonstrates how out of touch the Government is with public opinion in driving these outdated and discriminatory regulations through Parliament.
"Although technically the regulations only relate to Northern Ireland, the whole UK Parliament is being invited to endorse them and to thereby legitimise disability discrimination.
"This might have been acceptable in the minds of some when both Houses last voted on this for Great Britain in 1990 but the world has moved on. 1990 was another century and indeed another millennium.
"In the last thirty years things have changed enormously. We have passed the Disability Discrimination Act, the Equality Act and ratified the UN Convention on the Rights of Persons with Disabilities.
"More to the point, Parliament has passed the legislation requiring Regulations, the terms of which these Regulations directly violate.
"The legislation requiring the Regulations states that their purpose is to give effect to the law changes proposed by paragraph 85 of the CEDAW Committee report.
"This stipulates that any law change must be made without 'perpetuating stereotypes towards persons with disabilities.'
"Only last week the Prime Minister said that we should all "defeat...discrimination wherever we find it".
"So why is the Government doing the opposite and actually entrenching discrimination wherever it can?
"The last thing we should be doing is imposing a policy of blatant disability discrimination against the express will of the reconstituted Northern Ireland Assembly.
"Giving viable human beings protection from abortion, while actually facilitating abortion for human beings of exactly the same age because they have a non-fatal disability, stereotypes disabled human beings in the worst possible way.
"The message to society and to human beings born with a disability in particular is simple: "We would rather you'd never been born. You'd be better off dead". How is that not discriminatory?"
ENDS
Notes to editors:
For interview requests or more information please contact James Mildred: james.mildred@care.org.uk // 07717516814
CARE is a well-established mainstream Christian charity providing resources and helping to bring Christian insight and experience to matters of public policy and practical caring initiatives. CARE is represented in the UK Parliaments and Assemblies.
The Abortion (Northern Ireland) Regulations 2020 will impose new abortion laws on Northern Ireland: https://care.org.uk/news/2020/03/abortion-in-ni-the-reality
The Northern Ireland Assembly recently voted by 46-40 for a motion rejecting the imposition of abortion legislation including up to birth for all non-fatal disabilities and Down's syndrome: https://care.org.uk/news/2020/06/ni-assembly-rejects-abortion-to-birth-for-downs-syndrome
Lord Shinkwin' s motion is as follows. If this passes, the regulations will fall:
Lord Shinkwin to move, as an amendment to the motion in the name of Viscount Younger of Leckie, leave out from "that" to the end, and insert "this House declines to approve the Regulations because (1) they are drafted in such a way as to promote the stereotype that those with non-fatal disabilities are worthy of less protection in law than those who are not disabled; (2) to that extent they do not comply with the recommendation in paragraph 85 of the United Nation's Committee on the Elimination of Discrimination against Women's report Inquiry concerning the United Kingdom of Great Britain and Northern Ireland under article 8 of the Optional Protocol to the Convention on the Elimination of All Forms of Discrimination against Women, published on 21 March 2018, in particular that legal grounds for abortion should be expanded "without perpetuating stereotypes towards persons with disabilities"; and (3) to that extent they are counter to the decision of the House on 17 July 2019 in amending the Northern Ireland (Executive Formation etc) Bill to implement the recommendations of paragraph 85 of that report.