Woman launches landmark legal case over abortion guidance
Abortion
5 May 2020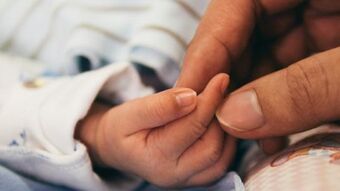 A woman is taking the National Institute for Health and Care Excellence (NICE) to court in a bid to force abortion clinics to properly inform their patients that a baby may feel pain during an abortion.
Ana-Maria Tudor, 32, was initially delighted to discover she was pregnant, having previously been told this was unlikely due to a medical condition. She was however pressurised into having an abortion by her partner.
Following a minimal consultation, she had an abortion at 23-week gestation at the British Pregnancy Advisory Service (BPAS) in Richmond on 13 April 2017.
But she claims she was never actually told that her baby might feel pain during the procedure and she only found out after the termination that babies born at 23 weeks can survive outside the womb.


Owing to this lack of critical information, she says she could not have given genuinely informed consent.
Ms Tudor told the Mail of Sunday:
Her solicitor, Paul Conrathe of Sinclairslaw said:
The case

According to the legal papers lodged by Ms Tudor's lawyers, the challenge against NICE is that the current abortion guidelines (NG140 Abortion Care) fail to recommend that:
Women should be informed that their baby may suffer pain if aborted at 18 weeks or possibly earlier;
Pain relief should be given to any unborn child over 18 weeks old;
Women should be informed that babies born at 22 weeks can survive outside the womb.
In the letter sent to the NICE threatening a judicial review, Ms Tudor's lawyers argue that the current guidance is unlawful because women cannot give informed consent without being told exactly what the abortion procedure will mean, with all its accompanying implications.
Two key issues
There are two key issues in this case. The first is the failure to advise that pain relief be administered and the second is the issue of viability.
The current law on abortion in Great Britain is the 1967 Abortion Act. Right now*, the time limit for most abortions is 24 weeks. When the 1967 Abortion Act was first passed into law, the time limit was 28 weeks, then in 1990, when abortion up to birth for disability was introduced, the time limit was changed to 24 weeks via an amendment to the '67 Act.
*(There is a disturbing campaign in Parliament to make the existing abortion law in Great Britain even worse. CARE's Naomi Marsden exposes what's really going on in the so called 'decriminalisation' of abortion movement.)
Viab­il­ity: can a
23

week year old baby sur­vive out­side the womb?

The survival rate for extremely premature babies has doubled over the past decade. According to one expert neurologist, Professor John Wyatt, if a baby is born at 23 weeks in the UK and is given reasonable quality medical care from the moment of birth, the chances of survival would be approximately 50-70%.
In recognition that survival rates were improving, the British Association of Perinatal Medicine recently released new guidance recommending doctors try to save babies born at 22 weeks.
Pain relief: can unborn babies feel pain?

This is an area of ongoing debate. However, there is growing evidence that babies as young as 18 weeks can feel pain.
Current guidance for abortion providers relies on a 2010 review by the Royal College of Obstetricians and Gynaecologists (RCOG) into fetal awareness.
In that review, the RCOG state that a pre-born baby is in an unconscious state until birth, however, this was based on evidence from only one paper.
A more recent article published in the Journal for Medical Ethics suggests there is now 'good evidence' that the brain and nervous systems are sufficient from 12 weeks gestation for the baby to feel pain.
The All Party Pro-Life Parliamentary Group collected evidence on fetal sentience and pain only last month and it's summary report is very critical of the current RCOG guidance.
That report concluded that:
While the APPG's report acknowledges different views on whether between 12 – 24 weeks gestation babies feel pain, it goes on to highlight additional evidence which suggests pain may be felt during that period.
CARE's View
This is a landmark case. Ms Tudor is showing great courage in being willing to challenge the current consensus. More and more evidence is coming to light that only serve to highlight that our current abortion laws, far from being 'progressive' are in fact quite the opposite. It is striking to note that in Animal Welfare legislation - and the UK is seen as a world leader on this front - if there is a suspicion that an animal will feel pain, then the benefit of the doubt is given and pain relief is administered. In this, we treat animals better than unborn babies. We are praying that through this case, real change comes for the better.