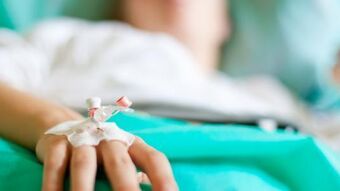 The Royal College of General Practitioners (RCGP) today announced it will remain officially opposed to all forms of assisted suicide and euthanasia.
It follows a consultation of its members and the decision was ratified by the RCGP's governing Council today.
The outcome is a significant blow to campaigners who are lobbying for a dangerous change in the current law under which there is a blanket ban on assisted suicide and euthanasia. The College has said it will not consult its members again for another five years.
Last year, the Royal College of Physicians adopted a neutral stance on assisted suicidefollowing a poll of its members, despite the fact neutral was the least popular option among its surveyed members.
The manner in which the survey was conducted was called into question and the RCP is currently subject to a legal challenge.
Most major professional medical bodies are opposed to changing the law to introduce assisted suicide of any kind, including the British Medical Association, the Geriatric Society, the Association of Palliative Medicine and the RCGP.
In a press release announcing the results, Professor Martin Marshall, Chair of the Royal College of GPs said: "Assisted dying is a controversial topic and this was reflected in the responses to our consultation. However, the highest proportion of respondents said that the College should continue to oppose a change in the law on assisted dying.
"This was the largest consultation on an issue of public policy that the College has conducted both in terms of response rate and volume of respondents. The survey results have been helpful in guiding College Council as to what our position should be.
"The role of the College now is to ensure that patients receive the best possible palliative and end of life care, and to this end we are working with Marie Curie and others to support this."
CARE's Deputy Director of Public Affairs, Chris Buttenshaw, said: "The RCGP has today recognised the danger of either supporting or being neutral on assisted suicide.
"Vulnerable people need the protection of the current law and to know that medical professionals truly have their best interests at heart."