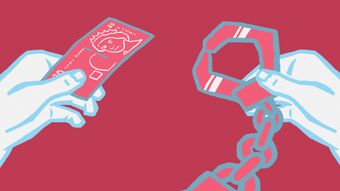 During Prime Minister's Questions today, Boris Johnson said he would be happy to look at new legislation to make buying sex illegal.
The PM was responding to a question from Labour MP Sarah Champion, who asked him:
"Sexual exploitation does not end when you turn 18. Indeed, it is the main driver of modern slavery and trafficking of women in this country. So will the Prime Minister join other countries around the world by bringing in legislation to end demand, making it illegal to buy sexual consent?"
In reply, Mr Johnson said:
"I am certainly happy to look at the proposals if the hon. Lady wishes to bring them forward to the House."
Making it a criminal offence to purchase sex is something CARE strongly supports. It is a crucial part of tackling the scourge of modern slavery.
At the moment, Northern Ireland is the only part of the UK where it is an offence. In Scotland, criminalising the purchase of sex is official SNP Party Policy. In its recent programme for Government, the Scottish Government said it was considering new ways of addressing prostitution. Whether this includes changing the current law remains to be seen.
A growing number of countries around the world have made it illegal to buy sex. Sweden, Norway, Canada, Ireland, Northern Ireland, France, Israel and Iceland have all taken this approach to prostitution law.
This approach has also been endorsed by resolutions passed by the Council of Europe Parliamentary Assembly and the European Parliament.