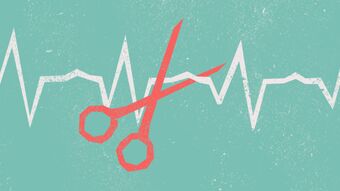 Three doctors are going on trial in Belgium, accused of unlawfully poisoning a patient who they helped to kill in April 2010.
Tine Nys, 38, requested euthanasia because of a failed relationship.
However, her sisters argue that this reason should not have been permitted under Belgium's euthanasia law, which requires a 'serious and incurable disorder'.
They are also saying the actual euthanasia was carried out in an amateurish manner.
The three doctors include the one who carried out the lethal injection, Nye's former doctor and a psychiatrist. If they are found guilty, they face the prospect of long jail terms.
Last year there was a similar case where a court cleared a Dutch doctor accused of failing to check the consent of a 74 year old patient.
Belgium's euthanasia law
Euthanasia was first legalised in Belgium in 2002 for adults experiencing a "constant and unbearable physical or mental suffering that cannot be alleviated."[1]
In 2014, the law was amended to include children experiencing constant and unbearable suffering which cannot be eased, and which will cause death in the short term".[2]
The result since then has been people euthanised for depression[3], blindness and deafness[4], gender-identity crisis[5] and anorexia[6].
Why this case is significant
This is an unprecedented case and there has not been one like it since euthanasia was first legalised in 2002.
It raises big questions about the way in which a patient's request for euthanasia is considered. It also demonstrates the danger of giving doctors the legal power to kill.
The accusation of an amateurish job is also alarming and again could lead to a wider conversation about the risks of widespread access to euthanasia.
Whatever else one might make of the case and whatever the outcome, it is evidence of the risks and dangers of legalising assisted suicide or euthanasia.
At CARE, we have consistently warned of the slippery slope which develops when you allow euthanasia to take place. There is strong evidence for this in Belgium and other countries, as this article for the Economist explains.
Find out more
Why the risks of legalising assisted suicide are too great
Going Dutch? The horror story of the world's first euthanasia lab
Key arguments against legalising assisted suicide
[1] The Belgian Act on Euthanasia of May 28 2002, Ethical Perspectives, 2002, pages 182-188 http://bit.ly/2Jppeo8
[2] Belgium approves assisted suicide for minors, Deutsche Welle News, 13 February 2014 http://bit.ly/30auIdq
[3] The death treatment, The New Yorker, 22 June 2015 http://www.newyorker.com/magazine/2015/06/22/the-death-treatment
[4] Deaf twins killed by legal euthanasia had to search two years before they found someone who would do it, National Post, 14 Jan 2013 http://bit.ly/2FPi7EO
[5] Terminally transsexual: concerns raised over Belgian euthanized after a botched sex change, National Post, 22 November 2013 http://bit.ly/2XlIqYT
[6] Another speed bump for Belgian euthanasia, Bioedge, 8 February 2013 http://www.bioedge.org/bioethics/bioethics_article/10388#comments