Woman who was told to have abortion 10 times then gave birth to a healthy baby girl
Abortion
6 June 2019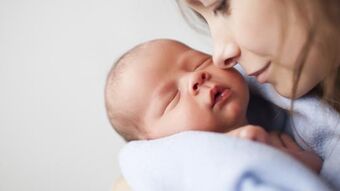 A mum who was offered ten abortions by doctors has given birth to a healthy baby girl.
Natalie Halson was repeatedly warned that her unborn baby would have a poor quality of life, after the 22-week scan showed the baby had spina bifida.
Spina bifida is where the baby's sine and spinal cord don't properly develop in the womb, which in turn causes a gap in the spine.
But Ms Halson decided to go ahead with the pregnancy and on 12 December gave birth to Mirabelle at 7lb 6oz.
'I'm so glad I refused an abortion'
Ms Halson told Fabulous Digital: "I found out as much as I could and realised that there were options. I refused to give up on my baby, but the medics just wouldn't take no for an answer.
"I was so insistent even after I'd repeatedly said no but it was getting offered a termination just weeks before she was born that really upset me.
"She was a proper little person at that point, it was vile to think they just wanted me to get rid of her. I was offered an abortion at every appointment I had up until the day she was born – about ten times in all.
"But I am so glad I refused. Mirabelle really is a miracle."
They made out abortion was only option
According to The Sun newspaper, doctors first suspected Mirabelle had spina bifida at the 22-week scan but told Natalie to come back in for a specialist scan later.
Speaking about this, Ms Halson said: "They made out like an abortion was my only option and explained that if I went ahead with the pregnancy my baby would be wheelchair bound and have no quality of life.
"When I got off the phone, I went and did tonnes of research and found out that there were options for my little girl – I felt suddenly really angry that they'd made out I had none.
"If I'd not had that time to do my research I might have even agreed to the termination.
"I look at Mirabelle now and think, I wouldn't even have known you. It doesn't bear thinking about."
Other options do exist
Eventually, Natalie was transferred to Great Ormond Street Hospital, London where a world specialist in spina bifida called Dr Jan Deprest is based for subsequent scans.
Surgeons operated on Mirabelle's spine after the day she was born, and they managed to reattach all the nerves in her back.
Ms Halson is confident her daughter will live a normal life: "I take her swimming twice a week, she had physiotherapy, she responds to touch on her legs, so it's all looking very positive.
"I love her just the same either way. I know she'll reach her milestones in her own time.
"I would recommend to any patents who are advised to abort that it isn't the only option, no matter what the hospitals try and tell them."
Last month, doctors performed keyhole surgery on an unborn baby with spina bifida – the first operation of its kind in the UK.
Find out more
At CARE, we believe that both lives matter. Find out more about what we think about abortion and the right to life.