Royal College to go 'neutral' on assisted suicide, despite strong opposition
Assisted Suicide
21 March 2019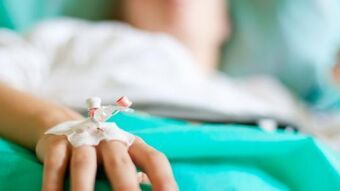 The Royal College of Physicians (RCP) will drop its historic opposition to assisted suicide, despite the fact only one in four doctors support the College going neutral.
It comes as the Royal College today published the results of its controversial survey of member's views on assisted suicide.
The results reveal that neutrality is the least popular option and most doctors still want the Royal College to remain opposed, with 43.4% of that view, while 31.6% think the College should be in favour and 25% think the College should be neutral. In comparison with the last poll in 2014, the number in favour of neutrality has actually fallen.
The survey was conducted between 5 February and 1 March and attracted 6,885 responses, out of a total membership of approximately 35,000.
Highly irregular survey
Before launching the online survey, in an unprecedented step, the RCP announced it was planning on adopting a new default position of 'neutral' unless a super-majority of 60% were either in favour or opposed.
The decision to frame the poll in this highly irregular way was made by the RCP council, behind closed doors, with no proper consultation of its members. It drew strong criticism from doctors with 1,800 of them signing a letter to the President of the RCP, urging him to withdraw the poll.
Despite the fact only a quarter of respondents support the College going neutral, thanks to the highly unusual framing of the poll, the RCP will still adopt the new position of neutral.
The survey also showed that most doctors are personally opposed to assisted suicide, with 49.1% against. A majority of doctors (55.1%) also said that if there was a change in the law, they would not be willing to participate in assisted suicide.
Most doctors still want RCP to be opposed
The Royal College last polled its members on this issue in 2014 and today's results reveal there has been little change in opinion. Responding to the results, CARE's Communication Manager, James Mildred said:
"What the results released today clearly demonstrate is that most doctors want the Royal College to retain its historic opposition to assisted suicide.
"Yet again, most doctors do not personally want assisted suicide to be legalised and the majority (55.1%) said if the law was changed they would refuse to participate.
"The public will clearly see that only one in four of respondents actually want the College to adopt a neutral position, which is down from 31% in 2014, so they will be understandably baffled as to why the Royal College is planning to go neutral anyway.
"In 2014, 44% was enough for the College to remain officially opposed, but now in 2019, 43% is suddenly deemed insufficient so the College will go neutral."
Sleight of hand
In its press release, the RCP argued it was moving to a neutral position so it could better reflect the views of its members. But Mildred pointed out that this was just a sleight of hand:
"It's all very well for the College to argue it is only trying to represent the views of members, but I'm afraid this is just sleight of hand.
"What makes the fact that this is nothing more than a sleight of hand embarrassingly explicit for the College, is that the result is pretty much the same as in 2014 and yet the outcome has been made to mean something completely different.
"Despite this spinning on the part of the leadership of the College, however, the truth is that the College is just as opposed to assisted suicide today as it was in 2015 when Parliament voted overwhelmingly to reject it.
"Anyone can see through that and the College has done itself no favours by trying to re-spin an unchanged reality – that doctors continue to oppose assisted suicide – through the introduction of bizarre rules imposed without consulting its members."
Risk of abuse and negligence
Mildred concluded: "Neutrality will be interpreted by many as a green light for assisted suicide laws, however, it is up to Parliament to make that call.
"We continue to believe that there is no way assisted suicide legislation could be made safe from abuse or negligence."
2019 poll results in full
1. What should the RCP's position be on whether or not there should be a change in the law to permit assisted dying?
a. In favour 31.6%, b. Opposed 43.4%, c. Neutral 25.0%
2. Do you support a change in the law to permit assisted dying?
a. Yes 40.5%, b. No 49.1%, c. Undecided 10.4%
3. Regardless of your support or opposition to change, if the law was changed to permit assisted dying, would you be prepared to participate actively?
a. Yes 24.6%, b. No 55.1%, c. Don't know 20.3%
Find out more
Read about the main arguments against assisted suicide here
Catch-up with the latest news on assisted suicide here
Want to discuss these issues with your small group at church? Check out Finishing Line, published by CARE and Keswick Ministries. You can buy a pack of ten course booklets with discussion pointers, biblical references and prayer points from our online shop.