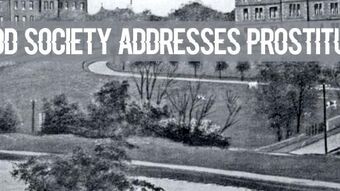 The last pariah of violence against women in Scotland is prostitution. Only by compassionately and wisely coming alongside these women at the extreme margins of our country can we truly be said to be a good society.
But we have an age-old problem with those ensnared in prostitution…
I have recently come across a past institution called 'Glasgow's Magdalene Institution', based in Maryhill, Glasgow. It opened in 1812. Then nearby 'Lochburn House' opened its doors in 1857. These were places where women in prostitution, or those deemed at risk of becoming fallen women, were incarcerated against their will by the Police. In an attempt to moralise society those in power in Maryhill locked these women up, not dissimilar to how we used to lock up other vulnerable groups.
Lochburn House was a dreadful institution which doled out beatings combined with verbal and emotional abuse. "These institutes weren't designed to help women on their own terms but were designed to punish them for behaviours that had been done to them".[1] But unlike Ireland, the twenty institutions of this kind where put in place by the Police, others high up in society, and Protestant churches![2] In these Victorian times the Church and the authorities were ashamed at those in prostitution or those perceived to be on the brink of ending up there. So we controlled them by isolating them in the far north end of Glasgow to insulate society.
Venereal disease was at epidemic proportions in Glasgow in the 19th century. As a result the city set up one of Glasgow's best kept secrets – a hospital "for dangerous females" with sexually transmitted infections dubbed 'the Lock Hospital'. But you wouldn't know it was there because "[p]olite society did not want to know when … a VD clinic for females was considered in 1805".[3] So they set up the hospital in Rottenrow with the façade of a normal tenement building. It was slap bang in the centre of Glasgow's then Red Light district. The women incarcerated there were subject to pioneering mercury baths to treat syphilis.[4] Many women died during treatment. For those that did not, and if deemed to be healthy, they were admitted to Lochburn House.
Lochburn House and the other associated institutions were shut down by the Secretary of State for Scotland in 1958 as a consequence of some escapees from the institution who rioted in Glasgow to be heard. This very public act shamed the powers.
It is estimated today that there might be upwards of 3000+ women in prostitution in Scotland.[5] The Scottish Government continually pay lip service to their 'Equally Safe' strategy where they confirm that prostitution is violence against women, but nothing is ever done about this.[6] There's no problem with dealing with domestic violence; so why not prostitution? Both live under the umbrella of the Scottish Government's 'Equally Safe' strategy.
There is a tacit acceptance of those working in prostitution in today's Scotland by the public. Yet no one seems to want to talk about it. Discussion always gets shut down. People awkwardly look at the ground hoping for the conversation to move on.
If prostitution is a form of violence against women, which I believe it is, then more, much more needs to be done. The root causes need to be dealt with, corruption that provides the 'no questions asked' access to prostitution needs to be addressed, the market for prostitution must be confronted, and very well funded exit routes for women stuck in prostitution are required.
Why am I harping on about this?
Last week we began a new campaign called not for sale to fundraise to do more for women ensnared and exploited in prostitution.
We need a different Christian response from the Lochburn days.
We actually need to say sorry to these Glaswegian women.
We need change.
We need your help to effect it.
Read on because a society can only claim goodness if it adequately addresses prostitution.
Stuart Weir is the National Director of CARE for Scotland
[1] https://www.commonspace.scot/articles/13822/campaign-remember-glasgows-d...