LONG READ: Parents of babies with life-limiting conditions need better support
Abortion
1 February 2019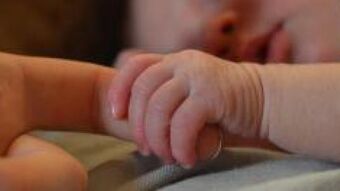 On Tuesday, MPs debated the issue of children with life-limiting and life-threatening conditions, and how to improve support for them and their families.
Jim Shannon MP, who is chair of the APPG for Children Who Need Palliative Care, described some of the challenges that families face in these circumstances—a crucial concern being that 'the quality of palliative care that children and their families can access is patchy.'
One major concern, highlighted by Fiona Bruce MP, is the lack of support that is offered to families who discover that their baby has a life-limiting or life-threatening condition, and who face considerable pressure from medical professionals to terminate their baby. They are often not offered the potential alternatives that may be available to them if they continue with the pregnancy.
In 2017 there were 3,314 abortions of babies with these conditions, under Ground E of the Abortion Act 1967, which accounts for around 2% of the total number of abortions. Under this Ground abortions may take place in England, Scotland and Wales up to birth in circumstances where there is a 'substantial risk that if the child were born it would suffer from such physical or mental abnormalities as to be seriously handicapped.'
Fiona Bruce chaired a Parliamentary Inquiry into Abortion on the Grounds of Disability in 2013. In the debate on Tuesday, she shared some of the evidence that parents had given to the inquiry, stating that many came under 'huge pressure to have an abortion' and received 'very, very limited support' to consider keeping their baby:
'Many told us that they were steered towards an abortion, many said that they felt that the medical profession was actually irritated with them. Many felt that they were given no information as to the support that they might get…some told us that all they received was a leaflet telling them how to have an abortion.'
The lack of support and information offered to parents when hearing the news of their baby's condition is deeply concerning, particularly if termination is being presented as their only viable option. Proponents of this Ground for abortion argue that, if it is highly likely the baby will die either before, during or shortly after birth, then it is much better to terminate—both to avoid the prolonged grief for the mother and to spare the child any pain. There can be no doubt that anyone faced with this decision is already experiencing intense grief, dealing with the loss of a much-wanted baby.
However, the pressure parents face to abort from medical professionals and others in these circumstances is often based on misguided assumptions regarding the quality of life that children with life-limiting disabilities can have. Organisations run by parents, such as Every Life Counts, demonstrate how such a life can have great value and meaning, even if it is very short lived. If parents are merely handed leaflets persuading them to have an abortion, they are not being presented with the realities of what could be a positive alternative for them.
Furthermore, the notion that the parents, and particularly the mother, will face greater emotional and psychological harm if they continue the pregnancy to term is greatly flawed. Evidence in fact suggests otherwise. This was discussed in a recent article in Public Discourse, a journal of the Witherspoon Institute, which highlighted a 2018 study from the Journal of Clinical Ethics that investigated the experiences of women who choose to give birth after learning that their baby has a life-limiting condition. The study found that rather than regretting carrying the baby to term and experiencing exacerbated grief, parents in fact experienced more profound regret from 'failure to spend as much time with their children as they would like, even during pregnancy.'
In fact, absence of regret was described in 97.5 percent of participants: 'Parents valued the baby as a part of their family and had opportunities to love, hold, meet, and cherish their child. Participants treasured the time together before and after the birth. Although emotionally difficult, parents articulated an empowering, transformative experience that lingers over time.'
This lack of regret was due to several factors: experiencing love for their baby, cherishing time together, meeting and holding their baby. Parents described their experiences as a 'profoundly positive experience of family.' The article also highlights similar findings from the Journal of Prenatal and Perinatal Psychology and Health, which concluded that 'After the birth, and at the time of the baby's death, parents expressed thankfulness that they were able to spend as much time with their baby as possible.'
Conversely, studies of those parents who had opted for termination in these circumstances did not experience the same more positive outcomes. One meta-analysis study found that parents 'experienced selective termination as traumatic, regardless of the prenatal test revealing the fetal impairment or stage in pregnancy in which the termination occurred.' This was exacerbated by the ambivalence and inner conflict involved in deciding to terminate, and women 'wanted to mourn but felt they did not deserve to mourn.' The study also stated that 'Couples, health care providers, family, and friends underestimated the intensity and duration of feelings of loss following selective termination.'
These experiences were echoed in the Parliamentary Inquiry. Mrs Bruce described how one mother 'had an abortion with her first baby, and then had decided she'd keep the second baby, even though she knew that the condition was life-limiting and in fact felt there was a much better outcome for her and her family in terms of the grieving process they were able to go through.'
Yet despite evidence that women experience overwhelmingly better outcomes if they continue with the pregnancy, abortion on the grounds of life-limiting conditions forms a key part of the campaign for abortion reform across the UK at present. The #NowForNI campaign is centred almost entirely on women in these situations and is the current subject of a judicial review. Similar stories were also a highly persuasive factor in the recent Reproductive Health Act enacted by the New York State Senate earlier this month which, amongst other things, allows for termination of pregnancies for life-limiting conditions up to birth.
Accounts of women in these circumstances are undoubtedly distressing. However, these women's stories are being used to push through an ideology that will never question whether abortion is the best course of action. There is no consideration of the pain and exacerbated grief that a woman will be encumbered with following this decision. If campaigners genuinely care about women, they should give due weight to the evidence that women are hurting because they are not being offered all the options available to them. Many MPs in the debate on Tuesday called for better support for families of children with life-limiting conditions after birth, but it is essential that they are equally supported beforehand.
Mrs Bruce reiterated to the Minister the proposals of the 2013 inquiry and called on the Minister to produce guidance for medical professionals, to ensure all mothers and fathers feel they can make a genuine informed decision when they discover they are having a baby with a life-limiting condition. It is crucial that the Minister give weight to these proposals and that, along with the recommendations of recent evidence, a culture is created in the medical professions and beyond that offers parents positive alternatives—alternatives that may even be transformative.
Naomi Marsden - CARE's Early Human Life Policy Officer