72% of Britons Oppose Decriminalising Abortion
Abortion
7 November 2017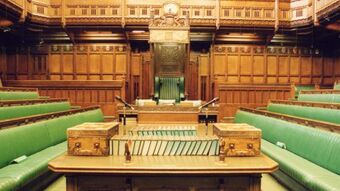 New poll shows Westminster is increasingly out of touch with public on abortion regulation
A debate last night in Parliament shows that MPs are increasingly becoming out of touch with the public on the issue of abortion.
A new poll published today reveals strong public support for keeping the practice of abortion within a clear legal framework. This stands in direct opposition to Diana Johnson MP's debate last night in the House of Commons, and recent moves by some medical bodies to lobby the government to further liberalise abortion law.
A ComRes poll of over 2,000 adults in Great Britain showed that 72% of the public think abortion should continue to be subject to a legal framework, including the requirement to get the consent of two doctors and not allowing abortion after 24 weeks unless the child is disabled or the mother's life in danger. Just 12% disagreed.
This poll shows that recent calls for the practice of abortion to be removed from legal restraint are completely against public opinion.
Last month marked the 50th anniversary since the 1967 Abortion Act, with almost 9 million abortions taken place since it was introduced in Great Britain.
CARE's Chief Executive Nola Leach
"This polling very clearly demonstrates that the public does not want the practice of abortion to operate outside of a legal framework, emphasising that calls for abortion to be decriminalised are completely at odds with the views of the everyday British public".
"There is clearly still a mainstream view in society that abortion needs to be governed within a legal framework. This ensures protection for the woman, having two doctors sign off on an abortion is a vital safeguard which helps make sure the woman is not being coerced into having an abortion and has plenty of one-to-one time with a medical professional to discuss her concerns".
This polling falls in line with polling conducted for the BBC Abortion on Trial Programme with Ann Robinson, but not mentioned by the programme and most of which was only published after the programme aired.
The polling highlights only 8% thought abortion should be allowed if a woman feels her family is big enough and just 4% if a woman feels that continuing with the pregnancy would get in the way of an educational or employment opportunity. Only 12% of people thought it should be legal to terminate an unborn child with Downs Syndrome which is currently legal up till birth. Preventing abortion in these contexts would require a tightening of the law.
The programme suggested an interest in decriminalisation, but it failed to mention that in its own poll the majority of respondents were of the view that the practice of abortion should be constrained by the law. 39% supported criminal legal restraint to 34% against.
Concluding Remarks by CARE CEO Nola Leach
"It is abundantly clear that the majority of the Great British public are not behind calls for abortion to be decriminalised. CARE urges Parliament to listen to the public on this issue."
"Rather than making abortion more widely available we should be doing more to support women and children in pregnancy and beyond for the good of our society."
"Time would be better spent in parliament debating cutting the time limit of abortion down from 24 weeks, in line with public opinion. The 24-week limit is becoming increasingly out of touch with medical and technological advances as more babies born before this limit are surviving."
Ends
Notes to the editor:
For more information please contact Rachael Adams on 020 7227 4731 / 07851 153693 or rachael.adams@care.org.uk
The ComRes Poll
http://www.comresglobal.com/polls/care-abortion-survey-october-2017/
ComRes surveyed 2,031 British adults aged 18+ between 20th and 22nd October 2017. Data were weighted to be representative of all adults aged 18+ by age, gender, region and social grade. ComRes is a member of the British Polling Council and abides by its rules.
This polling was first referenced in the House of Commons last night by Fiona Bruce MP in the debate Diana Johnson MP tabled on abortion decriminalisation.
The ICM Poll can be accessed at:
https://www.icmunlimited.com/wp-content/uploads/2017/10/OlOm-Abortion-Documentary-v2.pdf
On needing to keep the practice within tight legal parameters see page 99:
The full question
'The current law permits abortion only under certain conditions - for example, it always requires the consent of 2 doctors, midwives are not allowed to conduct abortions (medical or surgical) and pills to induce miscarriage must be taken on NHS or licensed premises only. Any women or medical professionals acting outside of these restrictions can face criminal prosecution and imprisonment. Do you think it is appropriate that abortion be considered a criminal matter?'
See Down Syndrome abortion page 9
See Family already big enough/get in the way of education page 59